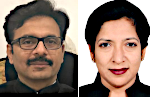 In Mangathai Ammal vs. Rajeswari, the Supreme Court has explained the law on statutory presumption and burden of proof in the context of the 1988 Act as well as the 2016 amendment. It has also considered whether the said amendment can be treated as retrospective and applicable to earlier transactions. Advocates Ashwani Taneja & Renu Taneja have highlighted the salient points of the judgement and explained its practical relevance
Case Analysis of recent judgment of the Supreme Court in the case of Mangathai Ammal (Died) through LRs &Ors. vs Rajeswari & Ors. (Civil Appeal Number 4805 of 2019)
The above said judgment passed by the Supreme Court, as recent as on 9th May 2019, is of great significance for many reasons.
Firstly, it has upturned and reversed the findings of both the lower authorities i.e. the Trial Court as well as the High Court.
Secondly, in this process it has given fine principles of jurisprudence dealing with the Benami Law.