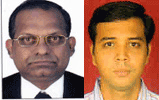 Res Judicata vis-à-vis consistency in tax matters
Dr. K.Shivaram and Ajay R. Singh, Advocates
The doctrine of Res Judicata is a potent tool in the hands of an assessee who wants to prevent the Assessing Officer from shifting his stand year – to – year on whimsical grounds. There is a wealth of case law on the subject and the authors have put the issue in its' proper perspective
1. INTRODUCTION
1.1. Finality to assessment facilitates the assessee to plan his affairs and to decide the business planning for long term strategies. However tax authorities feel that there is no finality to any assessment as the principle of Res Judicata is not applicable to tax proceedings. In this paper, an attempt has been made to understand the rule of Res Judicata as applicable to tax proceedings.
2. MEANING
2.1 The word 'Res Judicata' is derived from the Latin language. It means a case or suit already decided. The principles of Res Judicata, in the eye of law, is that if on any facts and/or law, a particular decision is made than subsequently if any lis on similar facts and/or law is to be decided between the same parties, it should be same as made earlier.
As per The Law Lexicon "Res adjudicata" means "A matter adjudged; a thing judicially acted upon or decided; a thing or matter settled by judgment; a thing definitely settled by judicial decision, the thing adjudged".