Dr. Raj K. Agarwal & Dr. Rakesh Gupta have explained the salient terms of the Taxation Laws (Second Amendment) Bill, 2016 which sees to assess the deposit of unaccounted high denomination notes in the bank and also to levy penalty thereon. The experts have expressed concern that the terms of the proposed law may discourage those who want to come clean. They have suggested that the Government should adopt a constructive, pragmatic and forward looking approach rather than being punitive
Demonetization of high value currency with effect from 9.11.2016 flummoxed those who were hoarding such currency in abundance. Obviously, it was unaccounted cash. Caught by surprise, such persons thought of declaring such amount as current year's income by paying tax @ 30% plus surcharge. But government made its intention clear that such declarations would attract penalty of 200%.
Opinions were expressed by the tax experts that as per the existing mechanism provided under section 270A of the Income Tax Act, 1961, no penalty on such declared amount would be possible as there would be no 'under-reporting' of income when such income is suo-moto declared in the Income Tax Return.
The Taxation Laws (Second Amendment) Bill, 2016 introduced in Lok Sabha by the Government on November 28th, 2016 seeks to address the above dichotomy. Government has given another opportunity to declare undisclosed income post demonetization decision. The Bill seeks to make, inter alia, the following two primary provisions:
1. New Chapter IX A, unveiling a Scheme has been introduced in the Bill titled as "Taxation And Investment Regime for Pradhan Mantri Garib Kalyan Yojana, 2016". It is a variant of Income Declaration Scheme, 2016 according to which any person may make declaration in respect of any income in the form of cash or bank deposits made with the specified entity during the period of scheme. The undisclosed income so declared under the scheme shall be chargeable to tax, surcharge and penalty aggregating to 50% of the undisclosed income. Further, an amount of 25% of undisclosed income is required to be deposited in the Pradhan Mantri Garib Kalyan Deposit scheme, 2016 & such deposit shall be interest free having four years lock-in period.
2. Section 115BBE of the Income Tax Act, 1961 is proposed to be amended with effect from A.Y. 2017-18 to provide that any income falling within the ambit of section 68 and section 69 to 69D shall be liable to be taxed @ 60% along with surcharge @ 15% of such income. Such tax rate is there irrespective of the fact that such income is declared by the assessee in the return of income on his own or such income is determined by the assessing officer. Incomes falling u/s 68 and 69 to 69D are called "Deemed Income" in respect of which assessee is not able to prove the source of earning such income with evidence.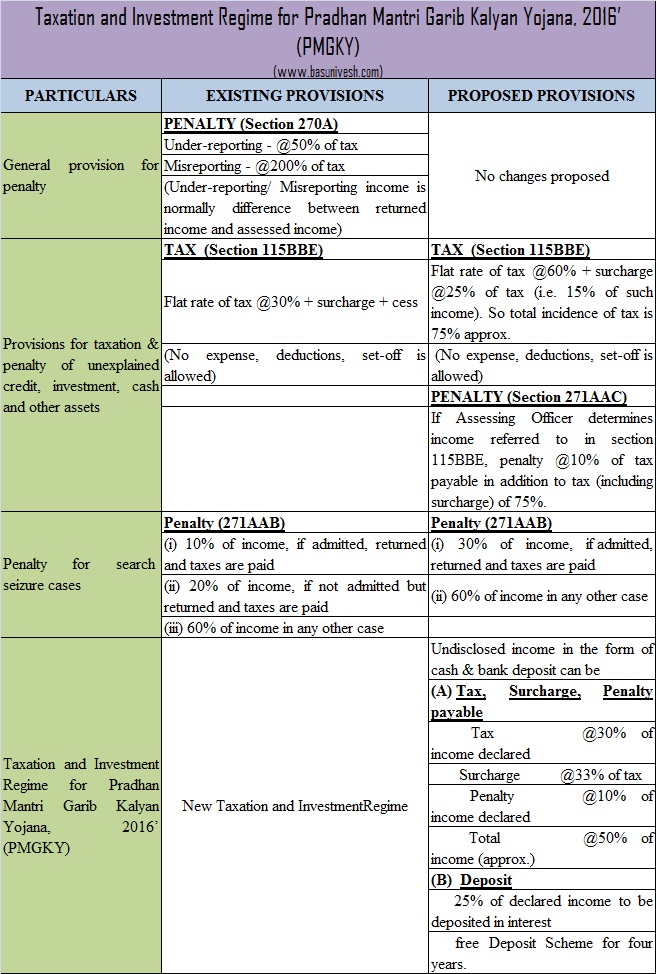 (Image credit: Basunivesh.com. Click for larger image)
Thus, the above amendment shall have the effect that any person having cash or deposits in an account maintained by such person with a specified entity of old currency notes after demonetization representing undisclosed income with respect to which he is not able to establish the source of earning income, would have to suffer the tax liability @ 75% of such income.
The amendment u/s 115BBE has been brought to plug the inconsistency existing under present penalty provisions of section 270A in respect of which opinion was being expressed that no penalty can be imposed when such income is declared by the assessee himself while filing return of income.
Therefore, when the tax regime and penalty provision for declaring undisclosed income have been made so stringent, another opportunity has been given under the scheme to declare the undisclosed income by paying taxes @ 50%.
Government had earlier introduced Income Declaration Scheme, 2016 between the period 01.06.2016 to 30.09.2016, wherein, the amount of tax, surcharge and penalty required to be paid was @ 45% of undisclosed income. The effective rate of tax under Income Declaration Scheme, 2016 was further reduced in a way to around 41% by allowing deferment of taxes up to one year i.e. 30.09.2017.
Under the newly introduced scheme, tax, surcharge & penalty rate in aggregate is 50% and the payment of taxes is to be made in advance before filing declaration of undisclosed income. Thus, the effective rate of tax is already high in the new scheme. Apart from tax etc. @ 50%, it is also required under the new scheme to make interest free deposit equal to 25% of undisclosed income having four years lock-in period. It would imply that a person declaring such income would be left with only 25% of the funds for use by him.
One of the objectives of demonetization is to curb black money and motivate persons carrying on business to shift from parallel economy or black economy to regularized business, wherein all transactions are fully recorded with no tax evasion. To achieve the above objectives two things are significant:
1. Availability of white capital to start regularized business
2. Business friendly infrastructure having ease of doing business.
Government has undoubtedly taken several steps during last two years to create ease of doing business and further steps are in offing in this direction. But, if we want to achieve the objective that parallel economy is shifted to regularized business, government, in our considered opinion, should allow the people carrying on business to retain @ 50% liquidity by paying 50% taxes as proposed. Any further requirement of making deposit of 25% of undisclosed income having four years lock-in period in our considered opinion would come in the way of achieving above objective and should therefore be shunned or dispensed with. Availability of only 25% liquidity with people carrying on the business may not be sufficient to fulfill need of capital required for doing the business in regularized way.
It can not be ignored that in case persons do not adopt the above scheme, the old currency notes may be prone to be exchanged through dubious means which may lead to the spurt of disputes inter-se between the persons and litigation with the authorities. The economic activity that generates huge employment may dip which in turn may have negative impact on the overall economic development of the country. Also, Government may not have its share of collection of taxes if people don't opt for the above scheme. In our considered opinion, the approach of the government should be constructive, pragmatic and forward looking rather being punitive.
Moreover, there is fear that in case too much discretionary powers are given to the authorities to investigate the past transactions as it appears too to be reality, it may lead to harassment and corruption. Serious attempt should be made to strike a balance by bringing the concept of accountability so that the discretionary powers are not misused.
Disclaimer: The contents of this document are solely for informational purpose. It does not constitute professional advice or a formal recommendation. While due care has been taken in preparing this document, the existence of mistakes and omissions herein is not ruled out. Neither the author nor itatonline.org and its affiliates accepts any liabilities for any loss or damage of any kind arising out of any inaccurate or incomplete information in this document nor for any actions taken in reliance thereon. No part of this document should be distributed or copied (except for personal, non-commercial use) without express written permission of itatonline.org