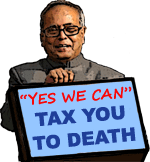 The Negative List Taxation introduced by the Finance Bill 2012 substantially reinvents the law on Service Tax and will have a deep impact on service transactions. The authors, well known experts in the field of service-tax, have meticulously studied the entire law on the subject and have explained the implications of the proposed amendments in a succinct and clear manner. A pdf copy of the Guide is available for download
The Finance Minister has proposed paradigm shift in service tax law in Union Budget, 2012. From selective approach of levy of service tax on taxable services, this years budget has shifted to negative list of services. Until this year, the service tax was payable on 117 taxable services. Now it is proposed that barring 17 services in negative list, all services will become taxable from the date to be notified upon passage of the bill. A list of exempted services is also proposed. The levy specifically provides for "declared services" and definitions of these services are given. First time after introduction of service tax in 1994, definition of the term, "service" is provided in the law. The Negative List Taxation introduced by Service Tax substantially reinvents the law on Service Tax and will have a deep impact on service transactions. The introduction of the Negative List prior to the introduction of GST leads to significant gaps in relation to generation and use of tax credits. This anomaly will doubtless add to the real indirect tax cost of transactions in India.
The rate of service tax is increased from 10% to 12%, however, the Education Cess & Secondary and Higher Education Cess remains at the previous level of 2% and 1% of service tax.
Upon increase in tax rates and bringing all services under the tax net barring a few, the Government has targeted revenue collection of Rs. 1.24,000 Cr. from the last years budgeted revenue of Rs. 67,000 Cr. and revised budgeted revenue of Rs. 92,000 Cr.
Changes are proposed in Point of Taxation Rules, Valuation Rules and Cenvat Credit Rules. The taxation of export of services and import of service is being replaced by "place of provision of service" and the draft rules are placed for discussion. The ambit of reverse charge mechanism under which the recipient of service is liable to pay tax is widened. Certain favourable retrospective amendments are also made in the law.
By CA Rajkamal Shah & CA Ashit Shah
[download id="6″]