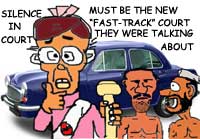 This could have come straight off a Ripleys' believe it or not entry. Imagine – a court room in a car!
HT reported that The Employees Provident Fund Appellate Tribunal, India's top court dealing with PF disputes from across the country, has been functioning from an ambassador car for more than three months now. It has apparently been like this ever since a fire on October 6 destroyed its office in the ninth floor of Mayur Bhawan in Delhi. The car is the official vehicle of R.L. Koli, the Tribunal head or the presiding officer, as he is known.
HT provided graphic details as to how the court in the car functions: Apparently, the Tribunal's head and his stenographer sit on the rear seat. The lawyer positions himself on the front seat, near the driver's, and turns back to make submissions.
This sorry state of affairs did not go unnoticed. Outlook reported that the Chief Justice of India K G Balakrishnan lashed out at the government apathy. "There is failure of the states to create better judicial infrastructure. It is pity that the Executive is neglecting judiciary while carrying out infrastructure development in the states," it quoted him as saying. Unless the Executive comes forward with funds to provide adequate infrastructure to the judiciary, the latter will not be able to contribute better to the society, he said, adding that the states have to find a way out to bring judiciary out of the infrastructure constraints.