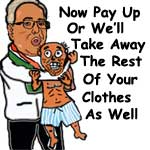 The author expresses concern over the rampant use of rough-neck techniques by the Department for recovery of tax dues. Despite severe reprimand by Courts, there is no improvement in the Department's behaviour due to lack of accountability muses the author. The author advises the department to adopt Chanakya's techniques for recovery and assures that this will benefit the department in the long run
1. Sections 222 to 232 of the Income Tax Act, 1961 and schedules II and III, thereto and the Income Tax (Certificate Proceedings) Rules, 1962, together constitute a self contained code prescribing the various modes for the recovery and arrears of tax under the Act. These provisions are also applicable to Wealth Tax Act.
2. The Tax Practitioners have the duty to advice the assessees to pay the tax what is rightfully due to Government, neither less nor more. The law of recovery is based on Civil Procedure Code, 1908. In Krishna Prasad Singh vs. TRO (1996) 221 ITR 720 (Cal.), it has been held that the provisions of Schedule II to the Income tax Act are analogous and similar to those in Civil procedure Code and therefore, the decisions relating to the CPC would be applicable for interpreting similar provisions in Schedule II to the Act.