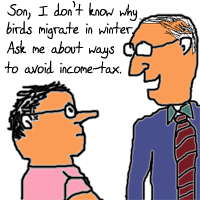 We are still waiting with bated breath for the new Income-tax Code which was supposed to be released by December 2007. The Finance Minister P Chidambaram has said that the Code is an exercise of the future and is not aimed at amending the existing Income Tax Act 1961. "This report is about a brand new Income Tax Act, which if all goes well, will come into force from Apr 1, 2008, that is assessments made for 2009-10," he said. He added that the new Act would hopefully come into force from April 2008 subject to Parliament approving it "well in time".
This time-table may have to be delayed because it was announced today that a "white paper" would first be released and the Code would be introduced in Parliament only after all the loose ends were ironed out.
Meanwhile, the AIFTP has released its' six-point wish list for the new Income-tax Code which balances healthy pragmatism with a dash of idealism.