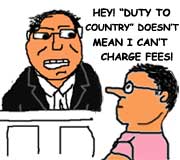 The author is full of praise at the clarion call of the new Chief Justice of India that one must put duty to the Country before duty to the self. Inspired, he has formulated a 10-point agenda and implores us to follow it in the right spirit to bring some nobility into the noble profession
At the Inaugural function of the 12th National Convention of All India Federation of Tax Practitioners held at Mumbai on 24th December, 2002, the Hon'ble Mr. Justice S. H. Kapadia, then Judge of Bombay High Court addressed on the theme of "Tax Evolution to Economic Revolution". (AIFTP Journal – January, 2003 P. 12). The delegates at the seminar and I, as a National President elect of the Federation had the privilege and opportunity of listening to the Hon'ble Justice on the economic subject and also on the issues relating to tax reforms. For the benefit of tax professionals, the Hon'ble Justice had made a noble suggestion which is as under:-
"In this seminar / convention, I would request the Technical Committees, if possible, to consider tax reform on following subjects:-

(i) Tax Competition.

(ii) Transfer Pricing Regulation.

(iii) E-Commerce Taxation.

(iv) Tax Treatise;

(v) International Taxation, and

(vi) Corporate Restructuring."
Hon'ble Justice also appreciated the Code of Ethics prescribed by the Federation to its members and also recommended that one more clause "Duty to the Country" may be included.
Today, when we look back 10 years, we will find that the vision of the Hon'ble Justice proved to be correct. All the subjects referred by the Hon'ble Justice are of very important subjects of today and the Federation and other professional organizations are discussing the above subjects, in all the seminars and lectures. However, it is very unfortunate that neither the Federation nor any professional organization have discussed the issue of "Duty to the Country" in any of the seminars or lectures. Hon'ble Shri Atal Bihari Vajpayee, then Prime Minister of India, while releasing the commemorative postage stamp on eminent jurist Shri Nani A. Palkhivala on his 84th Birth Anniversary at a function held at Mumbai on 16-1-2004, which was hosted by the Federation, stated as under:-
"In those dark days, the battle for democracy was fought by many people in many different ways, many of us in politics under the leadership of Jayaprakash Narayan fought it in prisons. But I have no doubt that one of the finest battles was fought in the court rooms and that fighter was Nani Palkhivala".
Therefore, a Lawyer or Tax Consultant can render duties to the country in his own way and play a positive role in building the nation. The following are the positive ways in which the tax professionals can render his "Duty to the Country".
1. Continuous research in tax law and tax administration.
2. Contribution to the nation building process as a partner in development by using the advantages of technology and Right to Information Act.
3. Development of a tax bar with integrity, knowledge and international standard.
4. Financial independence of the judiciary.
5. Help the Courts and Tribunals to reduce the pendency to render speedy justice.
6. Help the government to bring new simplified tax law and better tax administration.
7. Help the tax administration to bring more assessees under the tax net.
8. Pursue the Government to bring transparency in legislation and accountability in tax administration.
9. Tax payers education to bring voluntary compliance and awareness.
10. To maintain honour and dignity of the profession without involving in unethical practice.
We hope the tax professionals will play a proactive role and make a small beginning by remembering the words of Hon'ble Chief Justice of India – "Duty to the Country". The Hon'ble Chief Justice is a "role model" to young law students and common citizens of our country. All tax professionals feel proud and honoured that he is from the tax field and for the first time in the history a tax judge is head of the Apex Court.
Jai Hind.
Dr. K. SHIVARAM



Editor-in-Chief, AIFTP
Reproduced with permission from the AIFTP Journal, May 2010