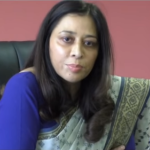 According to press reports, Ms. Alka Tyagi, the Chief Commissioner of Income-tax, Mumbai, has written a complaint to the Finance Minister alleging that Shri. P. C. Mody, the Chairman of the CBDT, gave her a "shocking directive" to bury a "sensitive case".
Alka Tyagi, an IRS officer of the 1984 batch, has also alleged that an old vigilance case against her, which Mody had himself later disposed of and in which she was given an all-clear, was recalled by Mody and is being used as a "weapon of blackmail" to stall her posting.
According to another press report, Alka Tyagi handled several high-profile assessment cases. Some of them are the Deepak Kochhar – ICICI Bank case, the Jet Airways tax evasion schemes case, and tax notices sent to Mukesh Ambani's wife and children for undeclared foreign assets.
After Alka Tyagi complained to the FM and PM, someone broke in to her office and ransacked the file cabinets, and she was transferred to the National Academy of Direct Taxes in Nagpur.

CBDT chief P C Mody's tenure extended by another year.

Modi says he can't tolerate corruption https://t.co/6NTgO2aTDS

— Ravi Nair (@t_d_h_nair) October 5, 2019