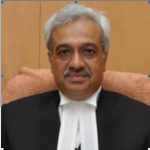 Justice P. P. Bhatt, Honourable President of the Income-tax Appellate Tribunal (ITAT) who assumed charge of Office of President, Income Tax Appellate Tribunal on October 24, 2018 is attaining his superannuation.
On this occasion a Full Court reference by the ITAT in the honour of Hon'ble Justice P. P. Bhatt, Hon'ble President will be held virtually on Zoom on September 03, 2021 at 3:30 PM.
Hon'ble Shri R S Syal, Vice President, will chair the reference.
We request you to join and grace us with your presence.
Join Zoom Meeting
https://us02web.zoom.us/j/9825112348
Meeting ID: 982 511 2348
Passcode: 2021