The ITAT arranged a tea party as well as a full court reference in honour of Shri P.K. Bansal, Vice-President, who attained superannuation on 9th January 2018. It is notable that Shri P.K. Bansal has qualifications in Law, Chartered Accountancy, Company Secretary and Management. He was a practicing Chartered Accountant for 20 years. The functions were attended by the Hon'ble President and Hon'ble Members of the ITAT as well as a large number of distinguished professionals.
Text of speech by Hon'ble Ms. Arati Vissanji, President of the ITAT Bar Association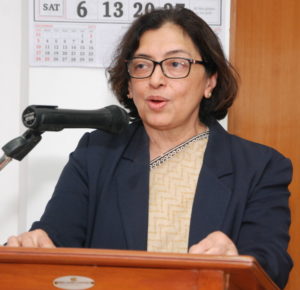 Hon'ble President of the ITAT Shri Agarwal,, Hon'ble Vice-Presidents Shri P.K.Bansal, Hon'ble Members of the ITAT, Departmental Representatives, Presidents of all organizations present, my colleagues at the Bar, Ladies and Gentlemen.
We have gathered here this morning to bid farewell to the Hon'ble Vice President Shri P.K.Bansal. His tenure as Member of the Tribunal began 20 years ago in Mumbai on 30th December 1997. It has come a full circle today and it ends here in Mumbai. This span of 20 years gave him the opportunity to sit on Benches at 23 stations across the country, a singular record. He was appointed as Vice-President last year on 29th March and took charge at Mumbai. He has qualifications in Law, Chartered Accountancy, Company Secretary and Management. Added to that his experience as a practicing Chartered Accountant for 20 years have stood him in good stead in this posting and will continue to do so in his future endeavours.
I do not have statistics about the number of orders Shri Bansal has been a party to. One of his landmark orders, I recollect reading from Shri K.C.Singhal's analysis on Penalties on the itatonline website, was in Reliance Petroproducts' case which came to be affirmed by the Supreme Court and which rely upon frequently. Though his presence in Mumbai has been fairly short, the general opinion about Shri Bansal has been his ability to grasp the main issues in the matter on hand and his quick decision-making process.
Pendency of cases has always been a challenge. During his tenure the pendency of cases in Mumbai has reduced to 15,765 as on 1st January 2018. The figure was 18,441 when he joined on 13.04.2017. This could be achieved in large measure because of the capable team of Members that he headed in Mumbai.
Many of us had limited appearances before Shri Bansal. However, as office bearers we did get a chance to interact with him. On these occasions we found Shri Bansal easily accessible, cordial and knowledgeable about the working of Govt. machinery.
Sir, tomorrow marks the beginning of yet another phase. We hope the coming years are equally fulfilling. On behalf of the Bar and on my own behalf I wish you good luck and success in your future pursuits.