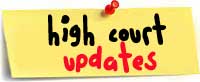 Writ Petition bearing No. 50 of 2010 (Indian Exporters Grievances Forum & Other vs. CIT) challenging the constitutional validity of Rule 8D has been admitted on 12.1.2010 by Hon'ble Shri Justice Dr. D.Y. Chandrachud and Hon'ble Shri Justice J.P. Devadhar of the Bombay High Court.
Update: The final hearing of the said matter including appeals relating to section 14A have been adjourned to 15.2.2010, 23.3.2010, 12.4.2010, 22.06.2010, 13.7.2010.
All those having matters relating to interpretation of section 14A which are pending before the High Court are requested to give the Appeal Nos. to the Associate for grouping matters.