The CBDT had to again face the embarrassment of having to extend the due date for filing returns of income because its website crashed. The question is that if this is the sorry state of affairs with regard to an important statutory requirement, what can one expect from so-called Digital India?
Facebook sparkles despite 1.28 billion people logging in daily …
The website statistics of Facebook are simply mind-boggling.
1.28 billion people across the Globe log in daily to upload photos, chat with friends and indulge in other frivolous activities.
Five new profiles are created every second. Photo uploads total 300 million per day. Every 60 seconds 510,000 comments are posted, 293,000 statuses are updated, and 136,000 photos are uploaded. 4.75 billion pieces of content is shared daily.
However, despite all the colossal traffic, Facebook works flawlessly. The pages open in a split second, wherever in the World one may be.
The examples can be multiplied ad nauseam. Amazon.in, Flipkart.com and other websites also sparkle when the traffic surges due to 'Billion day sale', 'Independence Day sale' and what not.
… However, Income-tax website crumples with slight increase in traffic
In contrast, the income-tax department, which boasts of a taxpayer base not exceeding four or five crore individuals, is notorious for its non-performance, especially on the due date for filing returns.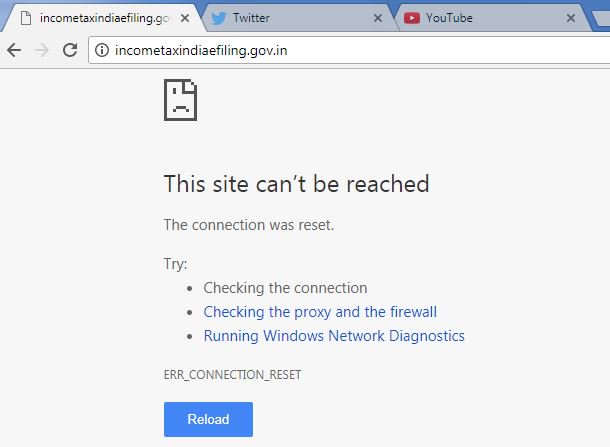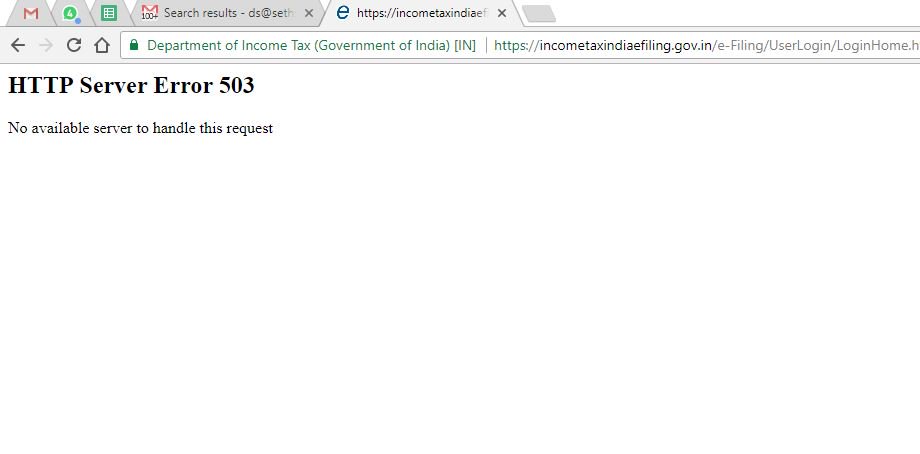 Insult to injury
However, the chaps managing the income-tax department stayed blissfully unaware of the hardships being faced by the taxpayers.
Instead, they mechanically and mindlessly sent out tweets reminding people that today is the "last day" for filing the return. Even the difference between "last day" and "due day" was lost sight of.
Attention Taxpayers!
Last day today!
Don't forget to file your Income Tax Return by 31st July,2017 for F.Y.2016-17.

— Income Tax India (@IncomeTaxIndia) July 31, 2017
Naturally, this infuriated taxpayers:
Foolishness

Your website is down . Why r u indulging in these type of Inefficiency?
Even Microsoft is confirming the issue pic.twitter.com/OPpjpWDgSQ

— Atul Modani (@atulmodani) July 31, 2017
Where to file? Any new site? Old one can't be found even by Google https://t.co/VpXMeckiAZ

— Gautam RM Sabharwal (@CASabharwal) July 31, 2017
CAs despair at sorry state of affairs
"Its not about rhetoric of due date that gets repeated year after year on extension of due date but isnt this a sadist approach that the portal is down since days and the department is absolutely indifferent towards tax filers?" CA Deepak Bubna lamented at the Brainstormers CA portal.
His sentiments were echoed by other taxpayers and professionals.
"Absolutely right. Think of the massive waste of time – manhours of professionals and assistants being wasted just staring at the screen waiting for the site to open up. Not counting the electricity, wear and tear, frustration and mental torture. And finally we have to helplessly face the clients," CA Neil Braganca replied.
"The Site is not working please do something. Unable to understand the stand for not extending date," CA Ritesh Srivastava added in a desperate tone.
"We clamour for extension we why not shout to upgrade the technology so that this not faced year after year. We only beg for extension of date. WE HAVE TO SHOUT," CA Ashok Seth fumed.
N Braganca was also very upset:
"Last night it said it was shut for maintenance and was to open again at 3.00 am. Even after 3 am it as not working. I wonder what brainy guys try to interfere with software on the penultimate day of return filing deadline. I did manage to upload few returns last night before maintenance shut down but was totally unsuccessful today."
"Are we not in a poor country which is unable to maintain a decent server for a site that earns their scam moneys" CA A. Joseph Arputharaj asked.
Wasted 2 hrs trying 2 download form 26AS. How r ppl expected 2 file ITR when the site doesn't function? @IncomeTaxIndia #DigitalIndia

— Surabhi (@informednetizen) July 31, 2017
It's not only for today , website is behaving erratic since Saturday

— Jai Shah (@shah_jai) July 31, 2017
Pretty sure last date of IT returns will get extended again this year because government can't run a website. Digital India pic.twitter.com/L3niZmxON6

— Gappistan Radio (@GappistanRadio) July 31, 2017
Tax payers in disquietude mood & Tax practitioners in trapeze act, mis-managed system of #DigitalIndia, Being PM, @narendramodi need to act.

— SATEESHKUMAR KALMEGH (@SATEESHkalmegh) July 31, 2017
@IncomeTaxIndia @adhia03 @FinMinIndia

Digitising India? A single Income Tax Website cannot run properly. Same problem for the last 3-4 yrs

— Dhruv Seth (@dhruvca) July 31, 2017
No apology, mere extension ….
In any civilized society, if a service provider is unable to render service owing to his own deficiencies, one expects him to issue a formal apology.
Here, both the Revenue Secretary and the CBDT Chairman are articulate about a number of issues. However, there is not a word of remorse for the needless harassment caused to the taxpayers and professionals.
Instead, a terse communiqué was issued extending the due date to 5th August 2017.
In view of the difficulties faced by taxpayers, date for filing of Income Tax Returns for FY 2016-17 has been extended to 5th August, 2017.

— Income Tax India (@IncomeTaxIndia) July 31, 2017
Understandably, this attitude of the department also did not go down well with the professionals.
For all the data mining talks, their server couldnt handle a overload today. They should have anticipated the traffic. 4-5 hour outage

— Hemang Shah (@hems253) July 31, 2017
An embarrassment for #DigitalIndia campaign by Govt. of India https://t.co/yf36MrQzhT

— Ankit Chaudhary (@entrepreneur987) July 31, 2017
Income Tax Returns has been extended to 5th August due to glitches on Portal so where is #digitalindia if u can't even manage a website

— Amit Kumar (@amitkumarz) July 31, 2017
…. Instead taxpayers blamed for coming on last day
The CBDT issued a press release dated 31st July 2017 in which it adopted a belligerent stand and blamed the taxpayers for coming on the due date.
"…. the main reason for failure of people to log in is because of last minute rush and panic in which those who have already logged in want to continue for the entire period for fear of losing it," it said, implying that the taxpayers are not justified in availing of their statutory right to file the return on the due date but should have filed earlier owing to the incompetency of the department.
How will the GST website handle the colossal traffic of 300 crore invoices?
The bigger worry plaguing taxpayers and professionals is that if such is the "efficiency" of the people managing the income-tax websites, how will they manage the colossal traffic that will swamp the GST websites?
The GST related traffic will be far, far higher than that seen for income-tax.
Sir, income tax dept takes around 5 to 6 crore returns a year. GST site is expected to have 300 crore invoices a month. Hope they are ready.

— Nikhil Vadia (@NikhilVadia) July 31, 2017
CA Vellalapatti Swaminathan Iyer, Hyderabad