International Tax Review, the prestigious publication on global transfer pricing and international taxation issues has released a publication in which it has identified the best CA firms in India specializing in transfer pricing matters.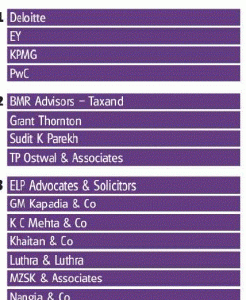 Interestingly, the publication notes that India is among the "most aggressive" countries in making transfer pricing adjustments aggregating $9.5 billion. It also notes that India presents "special problems" in the transfer pricing world and refers to the recent unsavory incident in which the US competent authority had to state in public that it was "frustrated" by the position taken by his Indian counterpart and that the competent authority process between the US and India was "broken".
Anyway, on the aspect of the best transfer pricing CA firm in India, the top roost is occupied, not surprisingly, by the Big 4 CA firms – Deloitte, E&Y, KPMG and PWC.
These firms were noted for employing several partners and staff specialists including economists, tax practitioners, legal experts and former officials of the income-tax department. International Tax Review noted that the team available with these firms have a variety of experience and skills and are able to deliver proficient advice in transfer pricing matters.

However, what is heartwarming is that a number of "desi" CA firms were also noted for their path breaking work in transfer pricing matters. T. P. Ostwal & Co came in for special mention for having a "notable presence" in the Indian transfer pricing market. T. P. Ostwal was complimented as a "very knowledgeable and notable" practitioner in this area.
K. C. Mehta & Co also came in for mention as a "key player" of transfer pricing practice in west India and for serving large multinational clients such as Schaeffeler, Panasonic etc.
The other CA firms which came into the radar for their top-quality transfer pricing work were GM Kapadia & Co, Khaitan & Co, MZSK & Associates, Nangia & Co & Majmudar & Partners.
We hope the day is not far when the local CA firms will be able to occupy the "Tier 1" position of transfer pricing advisers in India.