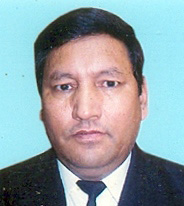 Hon'ble H. L. Karwa
Hon'ble Shri. H. L. Karwa has been appointed President of the Tribunal in place of Hon'ble Shri. G. E. Veerabhadrappa, who was the officiating President. Shri. Karwa assumed charge as President today, 1st September 2012. He will continue to hold additional charge of the Chandigarh Bench.
Hon'ble Shri. H. L. Karwa has qualified as an Advocate and practiced as Assistant Advocate General in the Himachal Pradesh High Court between 1992 and 1994. He was appointed Judicial Member of the Tribunal on 28.12.1995. He has been posted in the Ahmedabad, Amritsar, Pune, New Delhi and Lucknow Benches of the Tribunal. Prior to his elevation as President, he was Vice President of the Chandigarh Bench. Shri. Karwa has been party to several landmark judgements. He is well known for his integrity, ethical conduct and keen sense of justice.
We wish the Hon'ble President good luck in the new posting.