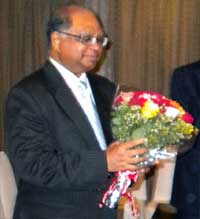 Chief Justice F. I. Rebello
The ITAT Bar Association organized a felicitation function on 24th August 2010 in honour of Justice F. I. Rebello on his elevation as Chief Justice of the Allahabad High Court.
The occasion was graced by the Hon'ble Justice V. C. Daga, Hon'ble Justice Dr. D.Y. Chandrachud, Hon'ble Justice Sawant, Hon'ble President of the ITAT Shri. R.V Easwar, Hon'ble Vice President Shri. D.M. Manmohan. Other Hon'ble Members & dignitaries also graced the function.
On behalf of the ITAT Bar Association, Shri DIneh Vyas, Sr. Advocate, President of the Bar Association, whole-heartedly praised the contribution of Justice Rebello for delivering several land mark judgements in taxation and other fields. The contribution of Justice Rebello in reducing the pendency of matters in the High Court was also highly appreciated. Justice Rebello has disposed of 7476 matters in 180 working days which amounts to an average of 180 judgements per day! (source AIFTP Journal April 2008 page 50). This has helped the Court to reduce the pendency in tax matters.
In return, Justice Rebello was appreciative of the contribution of the tax bar for helping the Court.
All present on the occasion wished his lordship all success as Chief Justice of the Allahabad High court.