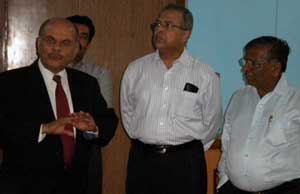 Hon'ble President R. V. Easwar & Hon'ble Vice President G. E. Veerabhadrappa with Shri. Dinesh Vyas, President
The ITAT Bar Association organized a "High Tea" function on 27th August 2010 (Friday) on the occasion of the Vice Presidents' conference which was held on 26th, 27th and 28th of August 2010. On behalf of the ITAT Bar Association Shri Dinesh Vyas, President of the Association congratulated the new team and wished them all success. Hon'ble President Shri R. V. Easwar assured that the Hon'ble Members would continue to work sincerely and honestly to maintain the dignity and honour of the ITAT as one of the finest judicial institutions of our country. A large number of members of the Association participated in the function and wished the Hon'ble President, Vice Presidents and Members all success in their endeavours.
Along with the Hon'ble President Shri R. V. Easwar, Hon'ble Vice Presidents Shri. G. E. Veerabhadrappa, Shri. P. P. Parikh, Shri. G. D. Agrawal, Shri. D. Manmohan, Shri. H. L. Karwa, Dr. O. K. Narayanan, Shri. N. Barathvaja Sankar and Shri. G. C. Gupta attended the function.