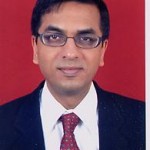 We are pleased to report that Hon'ble Justice Dr. D. Y. Chandrachud has been appointed Chief Justice of the Allahabad High Court with effect from the date he assumes charge of his office.
Justice Dr. Chandrachud has had a brilliant academic career. He graduated from St. Stephen's College, Delhi, completed LL.B from Delhi University and did his Masters in Law (LL.M.) from the prestigious Harvard University. He also obtained a doctorate in Juridicial Sciences (S.J.D.) from Harvard University. He had a flourishing practice in civil law. In recognition of his abilities, he was appointed Additional Solicitor General of India in 1998. He answered the call of duty and joined the Judiciary as an Additional Judge of the Bombay High Court in March 2000.
Justice Chandrachud is a very popular Judge. He has a very pleasant temperament and ensures that all litigants get a patient hearing. He has a brilliant and incisive mind and can immediately grasp the core of the controversy.
He has made immense contribution to income-tax law and has passed several landmark judgements such as Jai Hind CHS Ltd 349 ITR 541 (mutuality of a co-op society), Administrator of the Estate of Shri E.F. Dinshaw 345 ITR 529 (capital gains vs. business profits), UTI Mutual Fund vs. ITO 345 ITR 71 (law of recovery) and several others.
Apart from a patient hearing, Justice Chandrachud also has a systematic style of writing judgements. One can be sure that all arguments of counsel are referred to and dealt with in the judgement. His judgements are drafted with clarity and are a pleasure to read.
We are confident that Chief Justice Chandrachud will rise to further heights in the judiciary and we wish him good luck in his new responsibility.