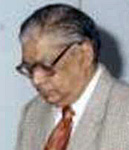 A Full Court reference was held on 11.10.2011 to mourn the tragic demise of Shri. T. V. Rajagopala Rao, the former President of the Tribunal. All Legal Luminaries gathered to pay rich tribute to Shri. Rajagopala Rao for his stellar contribution to the cause of justice.
Speech of Shri R V Easwar, President
Dr Shivaram, the President of the ITAT Bar Association, Mumbai, members of the ITAT Bar Association, members of the accountancy profession, officers of the IRS and my esteemed colleagues in the Mumbai Benches of the ITAT:
It is with great sorrow that I convey to you the news of the passing on of Shri T V Rajagopala Rao, former President of the ITAT in Hyderabad on the 9th October, after a brief period in hospital. He was ailing for quite some time and was confined to his house and wheel-chair bound. Even during his tenure in the Tribunal, particularly after he became President thereof, he was not blessed with the best of health. But he went about his work undaunted by the physical ailments.
He, Lived a life of extreme simplicity, even while spending money of Government. Though he was entitled to first class air fare he always preferred to by travel economy class, his reasoning was time taken for reaching the destination whether first class or economy class is the same. Why I should spent more money of Government.
Shri Rao joined the Tribunal in the year 1980 from the Andhra Pradesh judiciary and was first posted in Delhi. Thereafter he was posted in Hyderabad and Madras before he took over as the 22nd President in the year 1994. He took over at Delhi initially and thereafter came to Bombay, in recognition of the fact that the headquarters of both the Tribunal and the President of the Tribunal is Bombay. He retired on 08.12.1999.
Shri Rao's tenure as President of the Tribunal was eventful, in the sense that it was during his Presidentship that he resisted the move to take away the powers of the President to transfer and post the Members of the Tribunal and also successfully warded off an attempt to challenge the independence of the Tribunal in its decision-making. The Tribunal and the Bar (I am sure) are indebted to Shri Rao for this. He exhibited unprecedented courage in upholding the independence of the Tribunal on both the occasions. He is said to have filed a 90-page affidavit before the Hon'ble Bombay High Court in the transfer-posting matter, which required deep conviction in the cause and moral uprightness. He had both in abundance. We owe it to him for coming out unscathed on both the occasions. They are Shri Rao's biggest and most important contributions to the well-being of the ITAT. Therefore, it is absolutely essential that today we recall and remember those victorious moments, and Shri Rao's success in both the matters is due in no small measure to the ITAT Bar Association, Mumbai and to the ITAT Bar Associations of other places.
It is a pity that Shri Rao did not enjoy good health after his retirement. That, coupled with a tragedy in his family – he lost one of his sons-in-law – ensured that he never regained his health. When I called on him last December, I found him moving about in a wheel­chair. He would lose his memory frequently during the conversation; whenever he regained it, he would become emotional and unable to control his tears. I felt so sorry to see him in that condition and could not find an answer to the question why a noble and upright soul who had done so much for the Tribunal amidst adversities should suffer like this.
Today, the most fitting homage which we, the Members of the Tribunal, can offer to late Shri Rajagopala Rao is to imbibe his simplicity and principles of right behavior and his sense of independence and uprightness.
May his soul rest in peace! Thank you.
FULL COURT REFERENCE ON 11-10-2011 IN HONOUR OF LATE SHRI T. V. RAJAGOPALA RAO
Speech of Dr. K. Shivaram, President, ITAT Bar Association, Mumbai
Hon'ble President Shri R. V. Easwar, Hon'ble Vice President Shri D. Manmohan, Hon'ble Members, Our Past Presidents, Shri Y. P. Trivedi, Shri S. E. Dastur & Shri Dinesh Vyas, Shri Arvind H. Dalai, Smt. Reena Jha Tripathi, Commissioner, my professional brothers and departmental representatives. On behalf of the Income Tax Appellate Tribunal Bar Association and myself, I associate myself with all that Hon'ble President said, about Late T. V. Rajagopala Rao.
I had the privilege of appearing before Hon'ble President Shri T. V. Rajagopala Rao in number of matters, but, I came to know more about him and his personal qualities, when I had the occasions of interacting with him as Honorary Secretary of ITAT Bar Association, let me share today few memorable instances which cannot be forgotten.
1. Late Shri T. V. Rajagopala Rao was man of Simplicity, Honesty and Integrity
There was another incident which showed that he could take tough decisions. A matter came up for hearing before a Judicial Member who had earlier in the very same matter expressed a view adverse to the assessee. Counsel submitted before the Division Bench that the Judicial Member should not hear the particular appeal because he had already taken a view in that very matter which had now come up for re-hearing. The learned Judicial Member said that it was irrelevant and that he would hear and decide the appeal. A representation was made to the President who heard the objection for over 3 hours and passed a detailed order to the effect that the Judicial Member should not be on the Bench hearing the appeal
He, Lived a life of extreme simplicity, even while spending money of Government, he used to take extra care, one such instance was when Myself and My Friend Mr. Arvind Sonde were sitting in his chamber, he asked us how much discount your book seller gives to your library, we said about 20%. Then he called the person-in-charge of Library and asked him, how much discount our book seller gives us, he said 10%. Immediately, he said when they are getting 20% discount why we are not getting. He told the person-in-charge, change the book seller or asks him to give 20% discount to us, I am told though he was entitled to first class air fare he always preferred to by travel economy class, his reasoning was time taken for reaching the destination whether first class or economy class is the same. Why I should spent more money of Government. When he was transferred to Mumbai, his daughter did not get admission in college, because it was late, and admission was closed, I was in his chamber discussing certain administrative issues of ITAT, then Assistant Registrar told him that, admission is closed, but if you speak to so and so consultant who is the trustee, your daughter will get the admission. He said I am not going to speak to any one if she does not get this year let she try in next year.
2. Quality of Orders
He used to pass a detailed quality order. In one of the matter of stay he passed 7 Pages order, stating why stay should be granted, Client came and told us, Sir we have succeeded in the matter, order has come. I told him this is stay order, not final order. We were told that he passed the order in capacity as a District-Judge. The matter then went in appeal before A.P. High Court. The Hon'ble High Court Judge who read the detailed order requested Shri T. V. Rajagopala Rao to join Income Tax Appellate Tribunal and that is how he joined the ITAT.
3. Adjournments
In his court when any consultant or assessee used to take an adjournment, he used to grant liberally. In one of the meeting I asked him sir; I am yet to see you refusing any adjournment. He told me, there could be two reasons for asking the adjournments, (1) There may be genuine difficulty, I must give him an adjournment (2) Another reason could be the assessee or the counsel may not have confidence in me,
If they don't have confidence in me why should I hear, I have so many matters to hear, on this count also they deserve an adjournment. This shows how judicious he was while administering the justice.
4. Contribution of Late Shri T. V. Rajagopala Rao to preserve the independence of this institution must be written in golden words, and he will be remembered for ever as long as this institution survives
In the year 1996, then law secretary issued a notification stating that, the Ministry of law has the power to transfer members. When the order came he called all the members of ITAT and I was asked to join them, after discussion, it was decided that the Bar will take up the matter as PIL as it is concerning the independence of the Institution. He told me very clearly, if your Bar is not willing to take up, you may tell me, I will file the petition as an individual, what Government can do, ask me to go home, I have put up more than 20 years service in Government, I am entitled to pension, which is equal to my salary and I will wear black coat and practice in A.P. High Court. The Bar filed a petition which consisted of only six pages, we made the President as one of the respondent to support the petition. Mr. Rajagopala Rao filed the reply of 150 pages with various annexures supporting the petition with in 24 hours sitting the whole night. By reading his reply the petition was admitted, stay was granted. Rest everything is reported, Bombay High Court stayed the order of Law Secretary, (Income Tax Appellate Tribunal Bar Association vs. UOI 2350 OF 1996 Income Tax Review April 1997 Page No. 1 to 3 Vol. XXX111 No. 1.) the Matter was transferred to the Supreme Court, Supreme Court upheld the order of Bombay High Court vide their order dated 5th January 2004 and prescribed the guidelines (AIFTP Journal Vol. 6 No. 1 January) Guidelines are Prescribed Ajay Gandhi vs. Bir Singh (2004) 265 ITR 451 (SC). When the matter was pending before the Supreme Court, then law secretary tried to interfere once gain and Contempt proceedings were taken against him and Apex Court held that Law secretary be held for contempt. ITAT through President vs. V. K. Agarwal (1999) 235 ITR 175 / (1998) 101 Taxman 382 (SC). This is how the independence of this institution was protected by Late Shri T. V. Rajagopala Rao.
5. Additional Five Benches
Government of India sanctioned additional five benches to Mumbai. They have told the President you find the place at New Mumbai and start five new Benches at New Mumbai or shift all ten Benches to New Mumbai. President called us and asked us what Bar has to say whether the bar would desire to have all the benches in one place or only the new benches Then he only found out that the All India Radio which was occupying the premises has shifted to Borivali and asked us to request the Government to allot the premises to ITAT. He made all his efforts, we met the Ministers concerned with the help of Mr. Arun Sathe, In spite of Ministers order, Cabinet did not agree and finally we filed the PIL and due to Court order we got the new premises which all of us are enjoying. The entire credit for this must be given to Late Shri T. V. Rajagopala Rao and my seniors who are sitting here and who have supported fully both the PIL matters. When we inaugurated we really missed the presence of Shri T. V. Rajagopala Rao. In one of the meeting with the then Law Minister, Mr. Arun Sathe was with me, the Minster told us that your president is very honest person and man of integrity. That was Late Shri T. V. Rajagopala Rao.
He is one of the President till his retirement on 8-12-1999 continued to sit in Mumbai, which is the head quarter of ITAT.
After his retirement I met him in his residence at Hyderabad, he was not keeping well I conveyed good wishes of the Bar.
May God Rest his soul in peace, I Join your honour, in paying our humble tribute to the departed soul. I, on behalf of myself and all of you assembled here, convey my heartfelt condolences to the members of his family and pray god to grant eternal peace to the departed soul and strength and courage to his family to bear this great loss.
Speech of Shri. Arvind Dalal
The Hon. President and members of the ITAT at Mumbai. Mr. K. Shivaram, President of Bar Association, Past Presidents of the Association. Shri Y. P. Trivedi, Shri S. E. Dastur Shri. Dinesh Vyas, ladies and gentlemen.
On behalf of the Chartered Accountant Members of the Institute, Practicing at the Bar, I associate myself with the full Court reference in Hon. of Late Shri T. V. RajagopalaRao former president of ITAT, who passed away three days before.
I had occasion to appear before Shri. Rao in Tribunal appeals and found that he was just and equitable in his treatment of the counsels and one received full and fair hearing and Judgements characterizing his sense of justice and fairness. Whether one succeeded or lost in the appeal heard by him, one had deep satisfaction of having an opportunity to present one's case in full and fair manner.
During his tenure as a President of the Tribunal, Members of the Bar Association. Who had occasion to appear before him were of the opinion of getting full Justice, Which is the highest Tribute that we can pay to him. I had also occasion to meet him in the meeting arranged by the bar association for bringing administrative difficulties to his notice, which were considered sympathetically by him and the difficulties of the bar removed. During such meeting one got an impression about his informal and amiable nature, which left a sense of fulfillment amongst the committee members. He retired in 1999 after a distinguished career as judicial member and as Vice-President and President of the Tribunal.
In conclusion, I may state that I am reflecting the view of the profession that he had a very successful tenure of office not only as district and session judge before being appointed as Hon'ble member of the tribunal but also during his tenure as member. Vice President and President of the Tribunal. I pray to god that His Soul may rest in peace.
Speech delivered by Smt Reena Jha Tripathi, CIT (DR) in Full Court Reference on 11.10.2011 in honour of Late T V Rajagopala Rao, former President of ITAT
Hon'ble President, Members of Tribunal, Bar, my fellow colleagues, Ladies and Gentlemen:
Today we have gathered here to pay our condolences on sad demise of Hon'ble Shri T V Rajagopala Rao, President of ITAT from 1994 – 1999. I stand before you on behalf of Revenue to pay our last respects.
Shri Rao joined the ITAT in 1980 as Judicial Member. He became Vice President in 1989 and was elevated as President in 1994. He was a true Gentleman, a person of mild demeanor but at the same time firm in his views. I had the distinction of appearing before him when I was posted as Junior AR in ITAT. As a young officer initially I was quite hesitant while appearing before the Bench. But his affable quality put us at ease. On our shortcomings he never ridiculed us and provided us the necessary encouragement. His association with the Income Tax Department is not only official but personal too. His son is married to the daughter of 1981 batch of IRS, Shri H Srinivasulu, Commissioner of Income Tax, Hyderabad.
While reminiscing about Shri Rao, I remembered a poem which I had studied in school, which is apt for the moment. I would just like to recite few stanzas from it:
It is called A Psalm of Life by Henry Wordsworth Longfellow
Tell me not in mournful numbers
Life is but an empty dream
for the soul is dead that slumbers
and the things are not what they seen
Life is real Life is earnest
And the grave is not its goal
Dust thou art, to dust returnest
Was not spoken of the soul
Lives of Great men all remind us
We can make our lives sublime
And departing leave behind us
Footprints on the sands of time