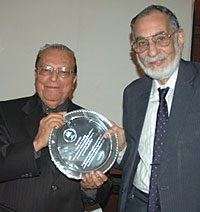 The Stalwarts (click for more pics)
29th July 2011 will be etched in the hearts of all Members of the Income Tax Appellate Tribunal Bar Association, Mumbai as one of the most memorable evenings and will be cherished for years to come. It was on this day that all senior and junior members of the Bar Association gathered together to pay their respectful tribute to two legends of Tax Profession Mr. Y.P. Trivedi and Mr. S.E. Dastur on completion of the "Golden Jubilee" i.e. 50 years of their practice before the Income Tax Appellate Tribunal (ITAT), Mumbai.
Dr. K. Shivaram, President of ITAT Bar Association, on behalf of the Managing Committee members of the Bar Association welcomed the Hon'ble guests for the evening and all the members. Dr. Shivaram gave a brief introduction of the two legends by summarizing their vast and enriching experiences and contribution.
He stated that Mr. Y.P. Trivedi started his practice in year 1952 in general law and first time appeared before ITAT in year 1960. He further said that Advocacy, court craft, presence of mind are the skills that are to be learned by all from Mr. Y.P. Trivedi . He stated that we are yet to witness a day when Mr. Y.P. Trivedi will lose his temper while arguing. Dr. Shivaram shared with all an incident of selfless effort, help and contribution of Shri Y.P. Trivedi in issue of reference to select committee while introduction of National Tax Tribunal Bill, Member's Accommodation at Nagpur. Not only limited to this, he also said that Shri Trivedi enlightens all with his knowledge on law, politics, film and share market whenever present in Bar Room.
Dr. Shivaram while introducing Shri Dastur stated that he started his career in ITAT in the year 1960. He also narrated an incident showing commitment and dedication of Shri Dastur towards various professional organizations. He shared with us words of Former President of ITAT Mr. T.V. Rajagopala Rao which was a great Tribute to Tax Bar of Mumbai:
"I have interacted with professionals of different cities but I must say few of your Bar members are individually institution by themselves."
He referred the name of Shri Y. P. Trivedi and Shri S. E. Dastur.
He stated that both seniors have trained a number of juniors, all are now seniors and have good reputation and good practice in the taxation field. Mr. Y. P. Trivedi has trained about 12 Juniors, including present juniors. Mr. Dastur has trained more than 16 Juniors (including present juniors)
Mr. S. E. Dastur has appeared in most of the High Courts and Benches of the Tribunal).
He stated that Hon'ble Mr. Justice S. B. Majumdar, Former Judge of Supreme Court of India while addressing the conference at Ahmedabad on 16th October, 1999 by referring the Edward Abbott Parry, an eminent English Judge in his book Captioned "Seven lamps of Advocacy" published by T. Fisher Unwin Ltd. Fourth Impression 1926. (AIFTP Journal Oct.-Dec., 1999. P. 4)
Seven Lamps of Advocacy.
1. The Lamp of Honesty;
2. The Lamp of Courage;
3. The lamp of Industry;
4. The lamp of Wit;
5. The lamp of eloquence;
6. The Lamp of Judgment; and
7. The Lamp of Fellowship
He stated that We will find all seven lamps of Advocacy in both the seniors who have been felicitated today.
He added four more qualities which they possess.
1. Wealth of Knowledge
2. Commitments to Profession.
3. Very strong on General Law – Both practiced General Law and then pursued taxation as a specialized filed.
4. Above all a good human being.
As a Tribute to them a small presentation of collection of their photographs was presented 'Down the Memory Lane' showing the journey of 50 years of the two legends.
Further Shri Y.P. Trivedi and Shri Dastur shared their enriching experience, They shared their struggle and hardwork at the beginning of the career, their experiences including one inside the court rooms and also interactions with stalwarts like Shri Nani Palkivala, etc. and various other interesting and full of knowledge experiences and incidences.
As a mark of love and respect on behalf of ITAT Bar Association Mementos were presented to both the legends. The Citation on the memento read as:
"In appreciation and recognition of your valuable contribution to the Income Tax Appellate Tribunal Bar Association and the legal profession".
We look up to Shri Y.P. Trivedi and Shri S.E. Dastur as our 'Role Models' and we are very fortunate that we had a chance and privilege of associating with them . We are proud to inherit their valuable legacy that is integrity, inspiration and professional ethics from them. An Appeal is made to all young professionals to make an honest attempt to preserve these valuable assets.
The President also thanked all the members for sparing their valuable time to attend this function. He stated that this programme is a team work of Managing Committee members of ITAT Bar association. He highly appreciated the contributions of Mrs. Arati Vissanji, Mr. Arvind Sonde, Mr. Hiro Rai, Mr. Vipul Joshi and Ms. Vasanti Patel for organizing the memorable programme of the ITAT Bar association.