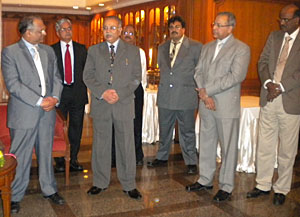 Hon'ble Justice Daga complimented the Tribunal & Bar for development of the income-tax law (click for more pics)
The ITAT Bar Association organized a farewell function on 24.2.2011 in honour of Hon'ble Mr. Justice V. C. Daga, Judge, Bombay High Court on his attaining superannuation on 17.2.2011.
The function was well attended by several legal luminaries including Hon'ble Mr. R. V. Easwar, President, ITAT, Hon'ble Mr. D. Manmohan, Vice President, ITAT and other Hon'ble Members of the ITAT. On behalf of the ITAT Bar Association, President Dr. K Shivaram expressed gratitude to each one of them for sparing their valuable time to attend the fare well function.
Dr. K Shivaram pointed out that Hon'ble Justice Mr. V. C. Daga had served the judiciary and nation for more than 11 years and had delivered several land mark judgments on Direct and Indirect Taxes. More than 747 cases were reported in various journals. It was noted that the concept of grouping of matters before Bombay High Court was initiated by Hon'ble Mr. Justice V. C. Daga in the matter of Abdul Gafar A. Nadiadwal vs. ACIT (2004) 267 ITR 488 (Bom) and that it has now become a well-settled practice. Hon'ble Mr. Justice V. C. Daga was complimented for always encouraging young lawyers. He was also complimented for delivering several thought provoking and innovative lectures in the seminars and Moot Court Competition.

On behalf of the Bar, the President wished Hon'ble Mr. Justice V. C. Daga good health, happy and active professional life.
Hon'ble Mr. Justice V. C. Daga praised the Members of the Bar. He stated that because of good representation only, he could able to deliver many land mark cases. He also stated that there are many young lawyers, who are arguing very well before the Court. He made an appeal to senior members of the Bar to encourage young lawyers.
On behalf of the ITAT Bar Association a flower bouquet was presented by Miss Aarti Sathe.