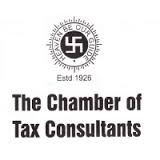 The Chamber of Tax Consultants has released a publication titled "Bird's Eye-View Of The Finance Bill 2016". The publication is authored by several well-known professionals such as Nihar Jambusaria, Nilesh Kapadia, Mayur Nayak, Apurva Shah, Ashok Sharma, Sameer Dalal and others. Leading Senior Advocates Dinesh Vyas and Dr. K. Shivaram have provided valuable inputs. The publication contains an in-depth analysis of the provisions of the Finance Bill relating to Direct tax and indirect tax and identifies several problem areas. Where feasible, the learned authors have offered suggestions on how the problems can be overcome.
The publication is available in a pdf format and can also be viewed on the website of the Chamber of Tax Consultants.
The publication will prove to be invaluable to all professionals and taxpayers who are grappling with the intricacies of the Finance Bill.