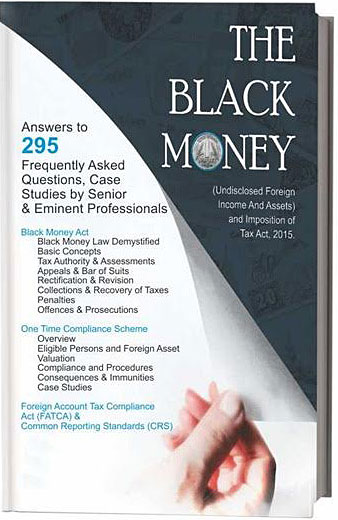 The Chamber of Tax Consultants (CTC) has released a publication titled "The Black Money – Answers to 295 FAQs, Case Studies by Senior & Eminent Professionals"
The publication contains Commentaries, Frequently Asked Questions (FAQs) and Case Studies on the provisions of The Black Money (Undisclosed Foreign Income and Assets) and Imposition of Tax Act, 2015.
The contributors to the publication are eminent legal experts such as Sr. Adv Ram Jethmalani, CA Yogesh Thar, Adv K. C. Singhal (Ex VP, ITAT), Adv R. P. Garg (Ex VP, ITAT), CA Nihar Jambusaria, CA Rashmin Sanghavi etc. The experts have meticulously analyzed the provisions of the law and explained all of its nuances and intricacies in an easy-to-understand format.
The publication is a must have for all legal professionals.
Price & Discount: While the MRP of the publication is Rs. 500, CTC is offering a generous discount of 30% for all orders placed till 10th September 2015. Accordingly, the price of the publication after the discount is only Rs. 350.
A limited number of copies are available for sale.
How to place the order:
Online payment: Orders for the publication can be securely placed online. Please click here to access the order form.
Order by courier: To order by courier, please send a D/D for Rs. 410 [(Rs. 350 + Rs. 60 (courier charges)] to the following address:
The Chamber of Tax Consultants
3, Rewa Chambers, Ground Floor, 31, New Marine Lines, Mumbai 400 020. Tel: +91 – 22 – 2200 1787 / +91 – 22 – 2209 0423
Fax: +91 – 22 – 2200 2455
Email: office@ctconline.org