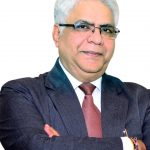 MR. D.K. Gandhi has been elected as National President of the All India Federation of Tax Practitioner (AIFTP) at a National Convention held on 25 th December, 2021 at Luknow. We congratulate and wish him all the success.
BIO DATA
D. K. Gandhi is an Advocate Practicing on Taxation side at Ghaziabad / Noida / Delhi / Pan India and is appearing before Tribunal / High Court.
He passed his B. Com (Hon's) from Meerut University in 1983, L.L.B. from Meerut University in 1986 and qualified as Advocate in 1986 and started his Independent Practice at the age of 22. He Joined A.I.F.T.P. in 1997 and has been very active Member. He became Managing Committee Member of Northern Zone in 2001 and was Treasurer of Northern Zone for 2003 to 2007. He was a Master of Ceremony and instrumental in organizing National Tax Conference at Chandigarh in 2003 when Dr. K. Shivaram was
National President. In 1999, he was General Secretary of Ghaziabad Bar Association and at his instance Ghaziabad Bar Association was first association to become Member of Federation from Northern Zone. In 2005-06, he was Vice President of Ghaziabad Bar Association and in 2006-07, when he became President of Ghaziabad Bar association, he was Treasurer of Northern Zone for Second Term and he organized a successful seminar in Indraprasth College Sahibabad on Administration of Justice under Tax Laws and Mr. S. R. Wadhwa was Chairman of Northern Zone and in 2007, he was in-charge of holding National Tax Conference at IIPM Training Institute, New Delhi and wherein Madam Bansal brought Mr. Parikh to the Federation alongwith galaxy of Hon'ble Judges. He was again made Treasurer for Two Years and again became Secretary of Northern Zone under the Chairmanship of Madam Bansal. Till then he did not aspire to come in NEC. In 2016, he was co-opted for NEC because he withdrew his nomination when no one was coming Forward.
He had been the President Ghaziabad Bar Association twice in the year 2006-07 and 2013-14. Recently, he has co-founded a Law firm in 2016 as V.S.G. Law – Vision Attorneys, LLP for providing Law Services across the country.
He was Vice President, A.I.F.T.P. Northern Zone for the Year 2017 and then was National Executive Committee Member of A.I.F.T.P. In 2020 on 5 th December he has been nominated as Deputy President of A.I.F.T.P for 2021. Presently he has been unanimously elected as National President of A.I.F.T.P. for the term 2022.
Presently he is Chairman of Advisory Committee to U.P. Tax Bar Association.
Has got more than 100 cases Reported in various State Law Journal of Sales Tax & Vat.
In Lockdown period, he engaged in Virtual Seminars on G.S.T.
He is visiting Faculty for Government Degree College Noida and Advisor to CAIIT (Confederation of All India Trader Organisation)
D.K.Gandhi
Advocate 9810216801
House No. 16, RDC Duplex
Raj Nagar Ghaziabad-201002
V.S.G. Law Vision Attorneys
F-6, L.G.F. Lajpat Nagar-III,
New Delhi -1100024
advocatedkgandhi@gmail.com