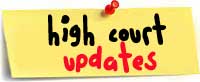 The Bombay High Court has directed that appeals involving the following issues should be grouped and placed for hearing at an early date:
80HHC AND 80IA(9)
Whether for purposes of section 80 HHC, "profits of business" have to be arrived at after reducing the deduction under section 80 IB?
Housing projects- s 80IB(10)
Whether for a housing project approved before 31st March 2005, there was no stipulation as to the shopping complex area in the project even though section 80 IB(10), prior to 1st April 2005 referred only to residential units and not to shops and the amendment including sub clause (d) in respect of shops and commercial establishments was introduced in the said section w.e.f 1st April 2005 and not with retrospective effect?
Depreciation on lease and Finance s.32
What is the distinction between finance lease and operating lease?
The High Court has requested all advocates to furnish a list of matters falling with one of three groups as soon as possible so as to facilitate grouping. For more information, please contact manager (at) itatonline.org.