Update 21.11.2012: Only a few copies of the book are available. Please rush to grab the book with a 20% discount
The ITAT Bar Association and the All India Federation of Tax Practitioners have released a book titled "Digest of Case Laws (Direct Taxes) 2003-2011". The salient features of the book are the following: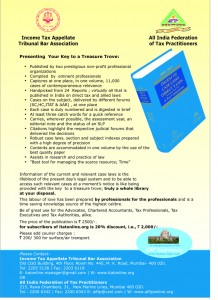 Click For Larger Image
• Published by two prestigious non-profit professional organizations
• Complied by eminent professionals
• Captures at one place, in one volume, 10,224 cases of contemporaneous relevance
• Handpicked from 24 Repots; virtually all that is published in India on direct tax and allied laws
• Cases on the subject, delivered by different forums (SC,HC,ITAT & AAR) Act one place
• Each case is duly numbered and is digest of in brief
• At least three catch words for a quick reference
• Carries, wherever possible, the assessment year, an editorial note and the status of an SLP
• Citations highlight the respective judicial forums that delivered the decisions
• Robust case laws, section and subject indexes prepared with a high degree of precision
• Contents are accommodated in one volume by the use of the best quality paper
• Assists in research and practice of law
• "Best tool for managing the scarce resource; Time"

Information of the current and relevant case laws is the lifeblood of the present day's legal system and to be able to access such relevant cases at a moment's notice is like being provided with the key to a treasure trove; truly a whole library at your disposal.
This labour of love has been prepared by professionals for the professionals and is a time saving knowledge source of the highest caliber.
Be of great use for the Advocate, Chartered Accountants, Tax Professionals, Tax Executives and Tax Authorities, alike.
The price of the publication is Rs. 2500. However, for subscribers of itatonline.org, a limited period discount of 20% is being offered which makes the price of the publication only Rs. 2000. (Please add courier charges of Rs. 200 or Rs. 300 for surface or air transport respectively.
Please Contact:
Mr. Sanjay
Income Tax Appellate Tribunal Bar Association
Old CGO Building, 4th Floor, Room No. 445, M.K. Road, Mumbai – 400 020.
Tel.: 2205 5138 Fax: 2203 6119
E: itatonline.manager@gmail.com W: www.itatonline.org
OR
Mr. Ravindra Patade
All India Federation of Tax Practitioners
215, Rewa Chambers, 31, New Marine Lines, Mumbai – 400 020.
Tel: 2200 6342 Fax: 2200 6343 E: aiftp@vsnl.com W: www.aiftponline.org