BOOK RELEASE ANNOUNCEMENT
We are pleased to announce the release of the publication by the All India Federation of Tax Practitioners titled "311 – Frequently Asked Question on Survey – Direct Taxes".
Hon'ble Mr. Justice Deepak Gupta, Judge, Supreme Court of India released the said publication on 22nd December 2018 at Guwahati in the 21st National Convention AIFTP in the presence of 1237 delegates across the country organised by the AIFTP.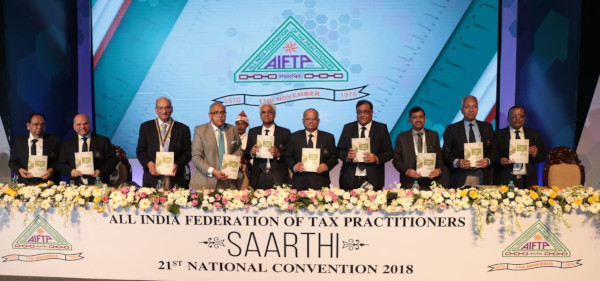 This publication is dedicated to Late Justice Dr. B. P. Saraf, Former Chief Justice of Jammu & Kashmir High Court.
The Editorial Board for the publication consists N. M. Ranka, Sr. Adv., Dr. K. Shivaram, Sr. Adv. and S. R. Wadhwa, Adv., who have shared their experience and knowledge. The publication is authored by CA. M. V. Purushottama Rao.
This is a unique publication compiled in a question-answer format explaining the provisions, laws, conventions etc. An aggregate of 311 questions are answered by giving references to relevant case laws on the respective subject.
This scholarly publication will be a useful referencer for the Lawyers, Chartered Accountants, Tax Practitioners, Departmental Representatives.
The publication is divided into 23 Chapters viz.
Specific Functions or Ceremonies, Business Premises, Authorities, Powers and Provisions, TDS Survey, Survey of Premises, Recording of Statements, Admission by an assessee and Retraction by an assessee, Consequent Proceedings. Rules of Evidence, Penalties and Prosecutions, Settlement of Survey Cases, Allied Revenue Laws (Sales Tax / VAT / Central Excise), Implications of Survey Accounting Aspects, Practical Issues, Survey Provisions, Circulars issued by the CBDT, Precautions necessary for Pre-Survey, Checklist, etc.
This publication would be an invaluable treasure in the library of tax professionals.
The price of publication is Rs 750/-.
For members of the AIFTP and subscribers of www.itatonline.org, the same will be available at a price of Rs 600/- and for others, the same is available for Rs 675/-.
Local/Outstation members requiring delivery of the book are requested to add Rs 100/- per publication as courier charges. Please make all cheques / draft payable to "All India Federation of Tax Practitioners".
For further details please contact:
ALL INDIA FEDERATION OF TAX PRACTITIONERS
215, Rewa Chambers, 31, New Marine Lines, Mumbai – 400 020
Tel.: 2200 6342 / 4970 6343 Telefax: 2200 6343
E-mail: aiftp@vsnl.com