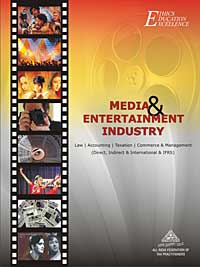 Hon'ble Mr. Justice Dalveer Bhandari and Hon'ble Mr. Justice G. S. Singhvi, Judges, Supreme Court of India released the publication on 19th December, 2009 in a 15th National Convention at Jaipur published by All India Federation of Tax Practitioners titled "Media & Entertainment Industry".
The Publication encapsulates various tax, legal, accounting and commercial aspects of the multiple segments of the Indian Media and Entertainment industry. This is an unique publication on Media & Entertainment Industry in questions and answers format (Over 400 FAQs) with exhaustive coverage on subjects of Accounting, Costing, Dispute Resolutions, Entertainment Laws, Entertainment Policies, Entertainment Tax, FEMA & RBI Guidelines, IFRS, Income Tax, International Taxation, Management, Overview on GST, Prevailing Practices, Service Tax, Transfer Pricing, Value Added Tax and Sales Tax. The diverse issues addressed in this book by 34 authors, would benefit almost everyone who is a partaker in the industry – the industry and professionals alike. This book may also be a useful reference to the Revenue authorities and facilitate an enhanced understanding of the constantly evolving media and entertainment industry.
This publication will be a useful guide to tax-payers and tax consultants.
The price of the publication is Rs. 350/- for Normal Bound & Rs. 450/- for Hard Bound. For subscribers of itatonline.org, the same is available at a price of Rs. 280/- & Rs. 360/- respectively. Outstation members are requested to add Rs. 70/- and Rs. 90/- per publication as courier charges for Normal Bound and Hard Bound respectively. Please make all drafts payable to "All India Federation of Tax Practitioners".
For further details please contact:-
All India Federation of Tax Practitioners
215, Rewa Chambers, 31, New Marine Lines, Mumbai – 400 020 Tel.: 2200 6342 E-mail: aiftp@vsnl.com