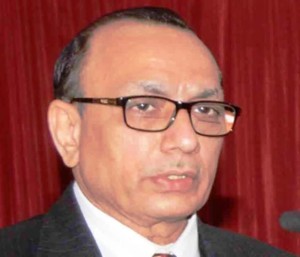 Hon'ble Shri Justice Dhirendra Hiralal Waghela was sworn in to the office of Chief Justice of the Bombay High Court on 15th February 2016. The learned judge was earlier the Chief Justice of the Orissa High Court and before that he was the Chief Justice of the Karnataka High Court.
According to biographical information contained in the website of the Orissa High Court, Chief Justice Wahgela was a "precocious child". His teachers encouraged him twice to jump two standards in one academic year and that is how he cleared his eleventh standard matriculation at the age of 14 years. The learned Judge completed his LLB even before he completed the age of 21 years with the result that he had to wait a few months to be enrolled with the Bar.
As a lawyer, Chief Justice Waghela had a wide practice in the fields of constitutional law and labour law. While the learned judge had several corporate clients, he was most satisfied in appearing without fees for poor workmen in labour law disputes.
Chief Justice Waghela was appointed Additional Judge of the High Court of Gujarat on 17.09.1999. He was elevated as the Chief Justice, High Court of Karnataka in March, 2013 and was transferred as Chief Justice of the Orissa High Court on 04.06.2015.
The learned Judge has decided a number of income-tax and other direct tax law cases such as Vinodchandra C. Patel vs. State of Gujarat (2002) 253 ITR 289 (prosecution for offence u/s 276C, 276CC and 277), Bharat V. Patel vs. UOI (2004) 268 ITR 0116 (s. 147 reassessment), CWT vs. Cadmach Machinery Co. (P) Ltd (2007) 295 ITR 307 (exemption under s. 40(3)(vi) of Finance Act, 1983) etc.
The learned Chief Justice is also well known for his stand against injustice. On the occasion of retirement of Justice K.L. Manjunath, Chief Justice Waghela gave vent to his sadness over the learned judge not being elevated as Chief Justice of a High Court owing to certain unsubstantiated allegations.
The learned Chief Justice is reported to have asked whether anyone would join the judiciary if judges themselves did not get justice. "It is an issue to ponder for all. We need to do introspection" the learned Chief Justice is reported to have said.
Chief Justice Waghela is also reported to have said "It was the darkest day and the most embarrassing moment for me when a glossy magazine was circulated…its contents were not only below contempt but sheer disinformation, [containing] character assassination of a judge, and the credibility of an institution suffered…"
The principled stand of the learned Chief Justice against the action of the Collegium of the Supreme Court in not elevating Justice K. L. Manjunath was reported to have been well appreciated by the members of the Karnataka Bar.