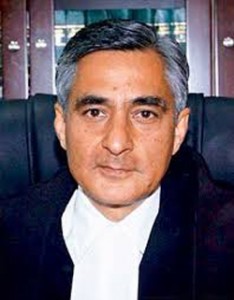 Hon'ble Justice T. S. Thakur, who has been nominated as the Chief Justice of India, has a very soft-spoken, polite and patient demeanour. He is, however, also firm in his approach. He is much respected by the Bar and the litigants.
Justice Thakur will take charge of the office of the Chief Justice of India on 2nd December 2015 and will hold the office for 13 months, till 4th January 2017.
The learned Judge is very familiar with income-tax law. During his tenure as a judge of the Delhi High Court, the learned judge was party to several landmark judgements such as CIT vs. Koshika Telecom Ltd [2006] 287 ITR 479 (Del) (taxability of interest), CIT vs. Dabur India Ltd (2006] 283 ITR 197 (Del) (TDS u/s 194C) etc. Even in the Supreme Court, the learned judge has contributed to the development of the law by being party to important judgements such as Queen's Educational Society vs. CIT [2015] 57 taxmann.com 304 (SC).
The important aspect is that the learned judge is very familiar with the working of the ITAT and of the caliber of its Hon'ble Members. The learned Judge is/ was the Chairman of the Committee in the Supreme Court responsible for the appointments of the ITAT Members. He has personally interacted with several ITAT Members and also interviewed the newly appointment Members.
It may be recalled that in the past, when the Government had delayed issuing appointment orders for the ITAT Members and there was a huge pendency in the disposal of matters, the Bench presided by the Justice Thakur had criticized the government. The Bench pointed out that though the Committee had cleared the appointment, the Government was sitting over the recommendations and was not displaying any sense of urgency even though the taxpayers were suffering due to the mounting pendency. Pursuant to the said remarks of the learned judge, the Government hastened to make the appointments of the ITAT Members.
The ITAT Bar Association had the privilege of interacting with the learned Judge during one of his visits to Mumbai. The learned Judge was very impressed to learn of the facilities available in the ITAT Bar Library for the benefit of the professionals and the taxpayers. In particular, he appreciated the fact that the Library has all the books on taxation and general law, including several treatises on foreign taxation law. The learned judge also indicated that he had great admiration for the legal acumen of the late Shri. Nani Palkhivala and his mastery of income-tax law.
We wish the learned Judge good luck.