An IRS Officer, who attained notoriety for being "habitually corrupt", has been found guilty and sentenced to 7-years of rigorous imprisonment. His 90-year old mother, who was his accomplice in the crime, has also been found guilty. His property has also been confiscated
7 years of rigorous imprisonment for corruption
The court of CBI special judge Sujata Singh sentenced Dr. Swetabh Suman, a senior Indian Revenue Service (IRS) officer, to seven years of rigorous imprisonment in a 14-year-old case pertaining to disproportionate assets, according to a report in the TOI.
I-T commissioner Swetabh Suman sentenced to 7 year's rigorous imprisonment | Dehradun News – Times of India https://t.co/386eETd8ja

— gauravtalwarTOI (@gauravtalwarTOI) February 14, 2019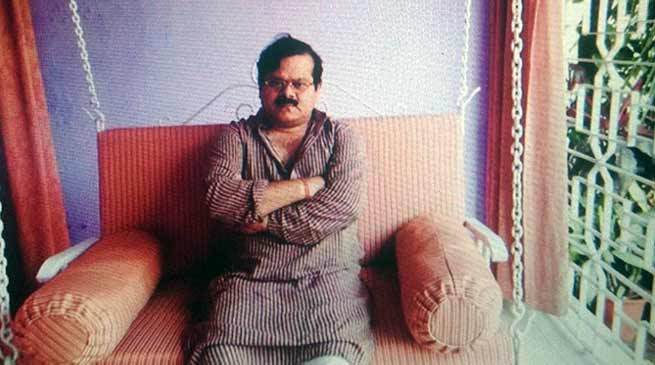 Suman has been convicted under sections 11, 13 (2) and 13 (1)(e) of the Prevention of Corruption Act.
The court also sentenced Suman's 90-year-old mother, Gulab Devi, to a one-year jail term, while his brother-in-law Arun Kumar Singh and his close associate Rajendra Vikram Singh have been awarded a four-year jail term.
All three were convicted under section 109 (punishment for abetment) of Indian Penal Code (IPC).
CBI had registered an FIR against Suman on August 2, 2005 under sections 11 and 13(2) of Prevention of Corruption Act and section 109 of IPC for possession of disproportionate assets in his own name, in the names of his mother and family members and others during the period from April 1, 1997 to March 31, 2004.
Shame on IRS officer Swetabh Suman who demanded and accepted Rs 50lakhs as bribe. When that fellow was found guilty in 2005 he should hv bern kicked out of job and jailed.
Poor babus land up in trouble for petty sums but these big scoundrels escape.

— K.V.R.Murthy (@kvrmurthy666) April 14, 2018
In the chargesheet filed on July 23, 2010, CBI alleged that Suman, during his postings at various places, was "leading a luxurious life and had amassed assets worth Rs 3.31 crore, which were 337% more than his known source of income."
Speaking to TOI, prosecution lawyer Satish Kumar said, "CBI conducted searches at 14 places across India, including Dehradun, Noida and Jamshedpur. It was found that the IRS officer had bought several properties in the name of other people."
Dehradun: CBI&ACB Dehradun sealed residential premises of Guwahati's Commissioner of I-T(Audit), Swetabh Suman. He along with an I-T Officer Pratap Das & a Chartered Accountant Ramesh Goenka were arrested for their alleged involvement in a case of tax evasion&criminal conspiracy. pic.twitter.com/nYyZI3oJJV

— ANI (@ANI) April 14, 2018
CBI arrests Guwahati's Commissioner of Income Tax (Audit), Swetabh Suman along with an Income Tax Officer Pratap Das and a Chartered Accountant Ramesh Goenka, for their alleged involvement in a case of tax evasion and criminal conspiracy, reports ANI

— Times of India (@timesofindia) April 14, 2018
CBI sources said that Suman had purchased a house on Rajpur Road in Dehradun in his mother's name, a plot in USHA colony in Dehradun, a plot of land in sector 50 in Noida, a plot inside IRS society in Lucknow and a hotel in Bihar. He had also purchased few acres of agriculture land in Pondha village in Dehradun in the name of different people.
"He bought the 55 bigha land in Pondha in his associate Abhay Kumar Singh's name and three shops in a commercial complex. Another flat in sector 62 in Noida was also bought by him and a 35-room hotel in Bodhgaya was also found to be in Arun Kumar Singh's name," said Satish Kumar.
IT Commissioner Swetabh Suman is a repeat offender. In the DA case, a CBI judge hearing the matter claimed that in 2015, Suman tried to influence him by offering a bribe through a third party to get a decision in his favour https://t.co/MRbGYVply9

— मनोज – Manoj (@manojsirsa) April 13, 2018
Confiscation of ill-gotten property
The special CBI court also ordered to confiscate all the properties with a combined worth of over Rs 3.5 crore, according to the prosecution lawyer.
Incidentally, in a separate case, Swetabh Suman had been arrested by CBI sleuths while taking a bribe of Rs 40 lakh in Assam in April 2018. Suman was then posted at Guwahati as commissioner of income tax (audit). He was in jail for over 60 days after which he was granted bail.
"There are three more cases pending against him in Dehradun, including one related to removing files with complaints against him from the office of income tax commissioner while he was posted in the city in 2004-05. An FIR was registered against him in Dalanwala police station," said the CBI lawyer.
In addition, he said that a case is also pending with CBI magistrate court against Suman, related to purchase of a car on a forged ration card.
Tainted officers continue to occupy high posts
Appointments Committee of the Cabinet (ACC) empanelled two IRS officers accused in CBI FIR for taking bribes from Sterling Biotech. They are empanelled as Chief Commissioners! What is happening in ACC? No fact checking? : https://t.co/CvcKmAC9MB

— J Gopikrishnan (@jgopikrishnan70) 4 December 2017
The Government continues the practice of appointing officers who are accused of wrong-doing to high posts.
Dr. Swetabh Suman was himself serving as a Commissioner of Income-tax and exercising official powers despite the ongoing cases.
Two IRS Officers named Sunil Kumar Ojha and Manas Shankar Roy are reported to have been appointed Chief Commissioners of Income Tax by the Appointments Committee of the Cabinet (ACC).
It is alleged that the CBI has filed a FIR against the two officers for accepting crores of rupees as bribe from a company named Sterling Biotech.
It is also alleged that the two officials admitted having received money from the Company (see IRS Officers, Accused By CBI Of Corruption, Appointed Chief Commissioners Of Income-tax)