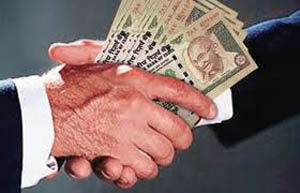 Yet another senior IRS officer has fallen into the clutches of the CBI. He demanded a bribe of Rs. 15 crore and was caught red-handed accepting the first installment of Rs. 1.25 crore.
Ashok Nayak's alleged modus operandi was similar to that of his peers.
He knows that in his capacity as an IRS officer, he wields enormous power and influence and that the same can be used as a tool to extort bribes from hapless citizens.
In the past, Ashok Nayak has served in several prime posts in the Directorate of Revenue Intelligence, the Enforcement Directorate (ED) and the Air Intelligence Unit of the Customs.
In his present avatar as Assistant Commissioner of service tax, Ashok Nayak allegedly approached the owner of a Navi Mumbai hotel and threatened to arrest him for alleged violations if he did not pay a bribe of Rs. 15 crore.
Fortunately, the hotelier was not cowed down. Instead, he rushed to the CBI and lodged a complaint against the IRS officer.
The CBI sleuths laid an elaborate trap. When Ashok Nayak walked in to collect the first installment of Rs. 1.25 crore, the sleuths pounced on him and nabbed him red-handed.
"During course of investigation the accused informed CBI that he was to deliver that amount to another person. The CBI set up another trap and arrested one Dhananjay Shetty for accepting the tainted money," the CBI sleuths said.
The CBI also searched Nayak's residence, where they claimed to have found some incriminating documents.
15 crores to settle an ED case. ppl still believe that AJ is honest.

— VB Singh (@vbsingh60) May 8, 2017
A shark of department is involved for whom Ashok Nayak was acting as middleman. But CBI wud not touch him. https://t.co/UucvLx0MgI

— VB Singh (@vbsingh60) May 8, 2017
Deputy Commissioner sentenced to one year Rigorous Imprisonment with fine of Rs. 60 lakh
The good news is that the arrests of high level revenue officials is also culminating in convictions.
According to a press release issued by the CBI, the Special Judge-III, CBI Cases, Ernakulam (Kerala), has sentenced K.S. Chandrasekhar, then Deputy Commissioner of Customs, Air Cargo Complex, to undergo one year Rigorous Imprisonment with fine of Rs. 60 lakh.
Two private persons have been sentenced to undergo two years Rigorous Imprisonment with fine of Rs. 30 lakh each.
The investigation revealed that K.S. Chandrasekhar while working as Deputy Commissioner of Customs entered into a criminal conspiracy with the private persons for clearing of goods without imposing applicable Customs Duty. In furtherance of said conspiracy, the Deputy Commissioner habitually obtained illegal gratification on eight occasions for a total amount of Rs. 3,79,350 as a reward for the favours shown to said firm.
Fear of God in corrupt officials
Hopefully, the concerted action of the CBI in pursuing the alleged corrupt IRS officers will put the fear of God in their minds and they will be put on the path of reform.