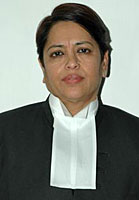 Hon'ble Justice Nirmal Yadav
The murky case of alleged bribe of Rs. 15 lakhs to ITAT Member – turned – Punjab & Harayana High Court Judge – Justice Nirmal Yadav will now be probed by a three judge panel.
Chief justice of India (CJI) KG Balakrishnan, has constituted a committee of three judges being Allahabad High Court Chief Justice Hemant Laxman Gokhale, J&K High Court Chief Justice KS Radhakrishnan and Justice Madan B Lokur of the Delhi High Court. Justice Gokhale will head the committee, which will investigate the corruption charges.
This is perhaps the first time the CJI has set up a committee to probe the role of a sitting High Court judge in a corruption case.
The case so far:
On 13th August, Additional Advocate General Sandeep Bansal, through his munshi Prakash Chand delivered a packet containing Rs 15 lakh in cash to the residence of Justice Ms. Nirmaljit Kaur, a Punjab and Haryana High Court judge.
The judge called the police.
Sanjeev Bansal was arrested by the police. He resigned from the position of AG immediately and apparently told the police that the money was wrongly delivered to Justice Kaur's residence and that it was actually meant for Justice Nirmal Yadav. He claimed that he had sent his munshi with the currency notes because the money was needed for a land deal made by the judge in Solan in Himachal Pardesh.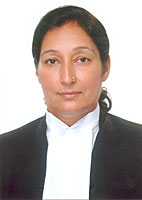 Hon'ble Justice Nirmaljit Kaur
According to an interim report prepared by the Chandigarh police on August 13, another sum of Rs.15 lakh was delivered at Justice Yadav's home the next day by Bansal's friend and property dealer Rajiv Gupta.
Justice Nirmal Yadav defended herself by saying that this was a conspiracy against her and that she was the "victim of a vilification campaign". She also alleged that "some influential persons were trying to shift the focus on her to save the real accused." She claimed that Sanjeev Bansal's wife had worked a junior lawyer with Justice Nirmaljit Kaur and that he was a frequent visitor at the residence of the judge. She admitted that she was in the process of purchase of property but added that she had every right to buy property through legal means.
Justice Nirmal Yadav was a Judicial Member of the ITAT and was posted in Mumbai for about 2 years before her elevation on 05.11.2004.
Meanwhile, Justice Yadav has proceeded on leave though it is not clear whether she voluntarily "recused herself from judicial work" or was asked to do so by Chief Justice T. S. Thakur.
Reports suggest that the Chief Justice of India KG Balakrishnan and the Chief Justice of the Harayana High Court T. S. Thakur have taken the matter very seriously and this is indicated by the high-powered committee set up to probe the issue.
Land Deal:
A probe into the land deal in Solan involving 18 buyers, including Justice Nirmal Yadav, her daughter Suruchi, and three family members of her brother Ajay Yadav, a Haryana Congress minister, has reportedly been started by the Harayana Government. Joint Secretary (Revenue) Rameshwar Sharma, who is conducting the inquiry, said that he had collected necessary documents pertaining to the controversial land deal.
The rise and fall of the Advocate General:
Sanjeev Bansal (43), a first-generation lawyer, has had a meteoric rise since joining as an advocate in the Punjab and Haryana High Court. In the time, he made it to the Additional Advocate General's position; he had developed close relations with Congress leaders, and got himself a long, impressive list of clientele. A detailed profile of his career was carried by the Indian Express. (click here for more)
Lawyers support Bansal:
The Bar Association of Punjab and Haryana acted swiftly and decided to suspend Bansal's membership though some senior lawyers openly came out in support of Bansal. Two senior advocates, Rajiv Atma Ram and Mohan Jain who have been appearing as Bansal's counsel, were quoted by the local press as stating:
"Everybody has right to defend himself. Moreover, at this stage we cannot hold Sanjeev Bansal guilty. These are just accusations, and accusations can be leveled against anybody. I am defending him as a matter of principle."
Another lawyer, K P S Dhillon, was also reported to have come out in support of Bansal. "We are here to support Bansal, who has is a member of our fraternity. We will fully support him till the end," Dhillon is reported to have said.
Moral of the story: Next time you ask your underlings to deliver ill-gotten cash on your behalf make sure they have the name and address of the payee right!