The Economic Survey 2019 has identified several root causes for the mammoth pendency of 3.5 crore cases in Courts. It has offered valuable suggestions for improving efficiency, which includes reducing the number of holidays that the Courts merrily take at the cost of the poor litigant
Courts work less than Government
One of the shocking revelations of the Economic Survey is that the Government officials work for a longer number of days as compared to their counterparts in the Judiciary.
While the Central Government offices will be open for 244 working days in 2019, the Supreme Court will work for only 190 days.
The Supreme Court enjoys 49 days of holiday for summer vacations, 14 days for winter break, and a further 18 days for Holi, Diwali and Dussehra.
The High Courts work on average for 232 days while Subordinate courts work for 244 days.
"Increasing the number of working days may improve productivity of the Supreme Court and in some High Courts, but is unlikely to significantly impact lower courts," the survey states.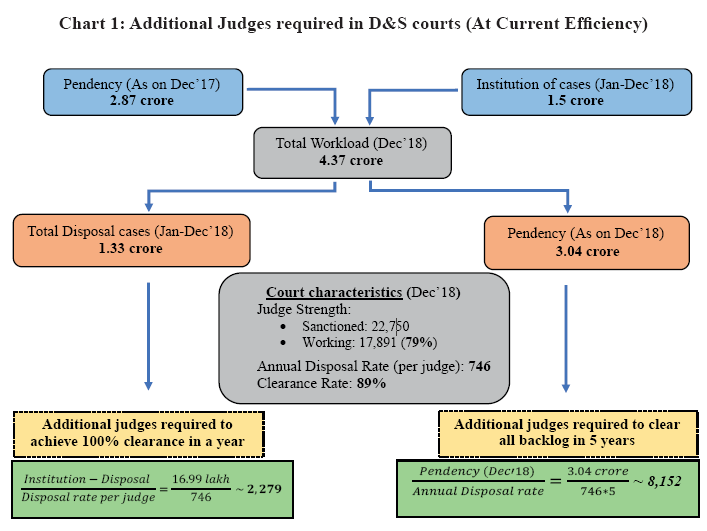 100% case clearance if 3,000 judges are appointed
The Economic Survey explains that a case clearance rate of 100 per cent (i.e. zero accumulation) can be achieved with the addition of merely 2,279 judges in the lower courts and 93 in High Courts even without efficiency gains.
This is already within sanctioned strength and only needs filling vacancies, it is stated.
In order to clear all the backlog in the next five years, further 8,152 judges are needed to be appointed in the subordinate courts.
It is pointed out that High Court judges are working at 62 per cent of their sanctioned strength.
Their case clearance rate is 88 per cent and each judge achieves an average disposal rate of 2,348 cases per year.
The backlog of cases as on June, 2018 was 44.40 lakh. In order to reach 100 per cent CCR, just 93 additional judges need to be appointed.
This is also already within the present sanctioned strength for High Courts.
To clear all backlogs in the next five years, the High Courts need a further 361 additional judges.
As regards the Supreme Court, an increase in sanctioned strength by six judges will enable the entire backlog to be cleared, it is claimed.