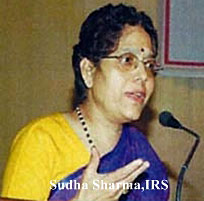 The CBDT Chairperson, Dr. Sudha Sharma, has, on the occasion of her retirement, pointed out that her endeavour always has been to foster highest standards of ethics and morality and to guard against tendencies which could bring a bad name to the Department. She stated that upholding ethical values and human dignity have remained her guiding principles.
Dr. Sudha Sharma pointed out that as tax collectors, the department had a pivotal role to play and that there was a huge target of collection that had to be met.
The Chairperson also emphasized that the department had to adopt a transparent and humane approach and provide hassle-free service to honest taxpayers as part of the policy.
The Chairperson also listed out all the achievements of the department during her tenure. It may be recalled that Dr. Sudha Sharma has taken charge of the office with the promise that India Will Have The Best Tax Regime In The World.
We wish Dr. Sudha Sharma good luck in her new endeavors after retirement.