A few copies of a publication titled "212 Frequently Asked Questions on Survey – Direct Taxes" are available.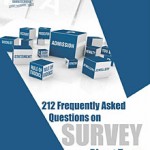 The publication is in the unique questions – answers format and explains the provisions and various controversies relating to Survey under Direct Taxes. The publication answers 212 Questions of practical importance in a simple and lucid language. It is divided into XX Chapters and deals with all important issues relating to survey, such as specific functions or ceremonies, Business Premises, Authorities, Powers and Provisions, TDS Survey, Survey of Premises, Recording of Statement, Admission by an assessee and Retraction by an assessee, Consequent Proceedings, Rules of Evidence, Penalties and Prosecutions, Settlement of Survey Cases, Allied Revenue Laws (Sales Tax / VAT / Central Excise), Accounting Aspects, Practical Issues, Circulars issued by the CBDT, Precautions necessary for presurvey, Checklist, etc.
The publication will be a useful guide to Tax Consultants, Tax payers as well as the tax department.
The publication is authored by CA. M. V. Purushottam Rao, Hyderabad and edited by Shri N. M. Ranka, Sr. Advocate, Jaipur, Dr. K. Shivaram, Sr. Advocate, Mumbai and Shri S. R. Wadhwa, Advocate, Delhi.
The price of publication is Rs. 300.
For members of the Federation and subscribers of www.itatonline.org, the same is available at a price of Rs. 240 and for others, the same is for Rs. 270.
Local/Outstation members not collecting from office are requested to add Rs. 60 per publication as courier charges.
Please make all drafts payable to "All India Federation of Tax Practitioners".
For further details please contact:
ALL INDIA FEDERATION OF TAX PRACTITIONERS
215, Rewa Chambers, 31, New Marine Lines, Mumbai – 400 020
Tel.: 2200 6342 Telefax: 2200 6343 E-mail: aiftp@vsnl.com