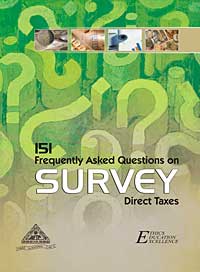 Hon'ble Mr. Justice Anil R. Dave, Judge, Supreme Court of India has released the publication on 3rd July, 2010 in a National Tax Conference at Hyderabad published by All India Federation of Tax Practitioners titled "151 Frequently Asked Questions on Survey – Direct Taxes".
This publication is an unique publication in a questions answers format explaining the provisions and various controversies relating to Survey under Direct Taxes. In this publication 151 questions of practical importance are answered in a simple and lucid language. It is divided into 20 Chapters. It deals with all important issues relating to Survey, such as TDS Survery, Powers of Survey officials, recording of statements during survey, penalties, prosecution, duties of assessees, precautions to be taken while giving statement in the course of survey, advantages of filing a settlement application, practical issues, Direct Tax Code provisions, important case laws, circulars, notifications, accounting aspects, Sales Tax, VAT and Central Excise, etc.
This publication will be a useful guide to tax payers, tax consultants, as well as tax department.
This publication is authored by Mr. M. V. Purushottama Rao, Chartered Accountant from Hyderabad and is edited by Mr. N. M. Ranka, Sr. Advocate, Dr. K. Shivaram, Advocate, Mr. S. R. Wadhwa, Advocate Settlement Commission and Mr. Kishor B. Karia, Chartered Accountant.
The price of publication is Rs. 200/-. For subscribers of itatonline.org, the price is Rs. 160/-. Outstation members are requested to add Rs. 40/- per publication as courier charges. Please make all drafts payable to "All India Federation of Tax Practitioners".
For further details please contact:
ALL INDIA FEDERATION OF TAX PRACTITIONERS
215, Rewa Chambers, 31, New Marine Lines, Mumbai – 400 020
Tel.: 2200 6342 Telefax: 2200 6343 E-mail: aiftp@vsnl.com