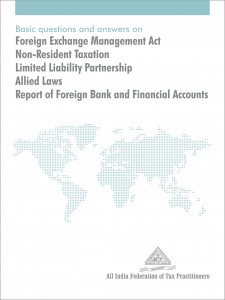 As Chartered Accountants and/or Advocates, we are expected to be aware of the fundamentals of FEMA, Non-resident taxation, Limited Liability Partnerships (LLPs) and Allied laws. Not being so aware can result in severe embarrassment and cause loss of confidence amongst clients in our professional abilities.
This is where AIFTP's latest publication "Basic questions and answer on Foreign Exchange Management Act – Non-Resident Taxation – Limited Liability Partnership – Allied Laws – Report of Foreign Bank and Financial Accounts" comes to our rescue. The publication is edited by eminent professionals, Shri. Dilip J. Thakkar, Chartered Accountant & Dr. K. Shivaram, Senior Advocate. Between them, the two stalwarts have decades of experience on the problems businessmen face when setting up operations in India.
Under the tutelage of these eminent senior professionals, a group of young professionals consisting of Sujeet S. Karkala, Rahul K. Hakhani, Rahul R. Sarda and Dilli R. Bhatta, Advocates, have authored the publication.
The USP of the book is that it follows a Question-and-Answer (Q&A) format. Almost every conceivable question that one can have on the specified subjects is answered in a straight-forward manner and with utmost clarity.
For example, the Chapter dealing with Non-Resident taxation covers all the topics that a non-resident taxpayer will need to know to compute his precise tax liability in India.
Similarly, the Chapter on Limited Liability Partnerships (LLPs) covers all issues from the setting up, to the winding up, of a LLP, and the tax implications thereon.
The publication is a must-have for all professionals.
The price of publication is Rs. 250/-.
For members of the Federation and subscribers of www.itatonline.org, the same is available at a price of Rs. 200/- and for others, the same is for Rs. 225/-. Local/Outstation members not collecting from office are requested to add Rs. 60/- per publication as courier charges.
Please make all drafts payable to "All India Federation of Tax Practitioners".
For further details please contact:
ALL INDIA FEDERATION OF TAX PRACTITIONERS, 215, Rewa Chambers, 31, New Marine Lines, Mumbai – 400020. Tel.: 2200 6342 Telefax: 2200 6343 E-mail: aiftp@vsnl.com