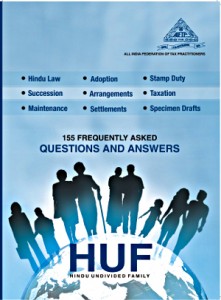 HUF 151 QnA
The AIFTP has released a publication titled "155 Frequently Asked Questions & Answers – HUF". Hon'ble Mr. Justice Deepak Verma, Judge, Supreme Court of India released the publication on 10th December, 2011 at Ranchi at the 16th National Convention organised by the AIFTP (Eastern Zone).
The highlights of the publication are as follows:
(i) All the provisions and controversies relating to HUF, in the form of 155 Questions & Answers, of practical importance, are answered in simple and lucid language by eminent professionals such as S/Shri Anant Pai, Chartered Accountant, B. V. Jhaveri, Advocate, Mumbai, N. M. Ranka, Sr. Advocate, Jaipur, Pravin Veera, Advocate & Solicitor, Mumbai, Vipul Joshi, Advocate, Mumbai. The same is edited by S/Shri N. M. Ranka, Sr. Advocate, Jaipur, V. H. Patil, Advocate, Mumbai, Dr. K. Shivaram, Advocate, Mumbai and Pradip Kapasi, Chartered Accountant.
(ii) The publication is divided into 13 Chapters to enable easy reference. Specimen Drafts of the documents required to create a HUF are also given;
(iii) Some of the important Chapters in the book are 'Status of HUF', 'Partition', 'Reunion', 'Family Arrangements', 'Taxation and Clubbing of Income', 'Stamp Duty', 'Right of coparceners', 'Members', 'Provisions of Hindu Succession applicable to HUF Property' etc. Aspecial chapter devoted to Amendments in Hindu Succession Act, 2005 is also included;
(iv) The publication will serve as an useful reference for Tax Consultants, Tax-payers, Advocates, Chartered Accountants & Government Authorities as well as tax officials in understanding the various issues relating to Hindu Law & HUF.
(v) The price of publication is Rs. 250. After discount, Members of the Federation have to pay only Rs. 200 while non-members have to pay only Rs. 225. Local / Outstation members desiring the publication to be sent by post are requested to add Rs. 50 per publication as courier charges.
Please make all drafts payable to "All India Federation of Tax Practitioners".
For further details please contact:
ALL INDIA FEDERATION OF TAX PRACTITIONERS
215, Rewa Chambers, 31, New Marine Lines, Mumbai – 400 020
Tel.: 2200 6342 Telefax: 2200 6343 E-mail: aiftp@vsnl.com