Note
: Subscribers of our newsletter are eligible for a 20% discount.
Subscribe now
if you haven't already done so.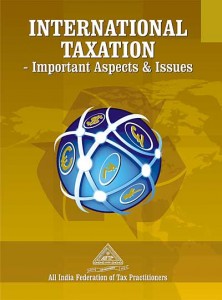 All India Federation of Tax Practitioners (AIFTP) has released a publication titled "International Taxation – Important Aspects & Issues". The publication explains the provisions, and deals with various controversies, relating to International Taxation. In particular, the book deals with issues such as Advance Rulings, Business Connection, Basic Principles of Interpretation of Double Taxation Agreements, Capital Gains, TDS obligations; Double Taxation Relief, Fees for Technical Services, What is income accruing or arising in India, Payments to non-residents, Royalties, Controversial issues in Transfer Pricing etc.
Several eminent authors have contributed to the publication such as Justice T. N. C. Rangarajan (Retd.), Arvind P. Datar, Sr. Advocate, N. M. Ranka, Sr. Advocate, Ajay Vohra, Advocate, CA. H. Padamchand Khincha, CA Rajen Vora & others.
This publication will serve as an useful reference for Tax Consultants, Tax-payers, Advocates, Chartered Accountants & Government Authorities as well as tax officials in understanding the various issues relating to International Taxation.

The price of publication is Rs. 300. However, subscribers of www.itatonline.org / members of AIFTP/BCAS/CTC & STPAM are being offered a discount of 20% and are entitled to buy it for only Rs. 240.
Local / Outstation members not collecting from office are requested to add Rs. 60/- per publication as courier charges.
Please make all drafts payable to "All India Federation of Tax Practitioners".
For further details please contact:
ALL INDIA FEDERATION OF TAX PRACTITIONERS
215, Rewa Chambers, 31, New Marine Lines, Mumbai – 400 020
Tel.: 2200 6342 Telefax: 2200 6343 E-mail: aiftp@vsnl.com