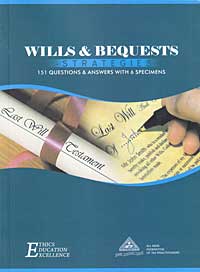 AIFTP is pleased to announce the release of the publication titled "Wills & Bequests – Strategies – 151 Questions & Answers with 6 Specimens". Hon'ble Mr. Justice Anil R. Dave, Judge, Supreme Court of India released the publication on 8th January, 2011 at Ahmedabad in a National Tax Conference organized by the AIFTP (Western Zone) in association with All Gujarat Federation of Tax Consultants and other local associations.
This publication is an unique publication in a questions answers format explaining the provisions and various controversies relating to Wills & Bequests. In this publication 151 questions of practical importance are answered in a simple and lucid language. It is divided into 6 Chapters alongwith 6 specimens. The highlights of the said publication are Advantages of making Will, Caveat, Charitable Trust, Codicil, Discretionery Will, FEMA, Foreign Properties, Formalities for making valid Will, HUF – Will, Joint Will, Law which should be considered while preparing Will, Non-resident, Probate and Succession Certificate, Registration, Taxation, Trust through Will, What Will should contain, etc.
This publication will be a useful guide to tax payers, tax consultants, as well as tax department.
This publication is authored by S/Shri N. M. Ranka, Sr. Advocate, Jaipur, K. H. Kaji, Advocate, Ahmedabad, Bharat R. Damodar, Advocate & Solicitor, Mumbai, Pradip Kapasi, Chartered Accountant, Mumbai and Dr. K. Shivaram, Advocate, Mumbai.
The price of publication is Rs. 200/-. For members of the Federation, the same is available at a price of Rs. 160/-. Outstation members are requested to add Rs. 50/- per publication as courier charges. Please make all drafts payable to "All India Federation of Tax Practitioners".
For further details please contact:
ALL INDIA FEDERATION OF TAX PRACTITIONERS
215, Rewa Chambers, 31, New Marine Lines, Mumbai – 400 020
Tel.: 2200 6342 Telefax: 2200 6343 E-mail: aiftp@vsnl.com