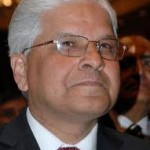 We are pleased to announce that eminent senior advocate Shri Ashwani Kumar has been appointed the Law Minister of India. Shri. Ashwani Kumar is well versed with income-tax matters and has appeared in several landmark matters such as Topman Exports vs. CIT 247 CTR (SC) 353 & Vikas Kalra vs. CIT 247 CTR (SC) 382 (DEPB & s. 80HHC). He has also been a member of the consultative committee for the Ministry of Finance and is well aware of the problems facing income-tax assessees.
The Bar Association shall shortly approach the Hon'ble Law Minister with a request that the following long-standing issues raised by the Bar be addressed at the earliest:
(i) Appointment of a permanent President for the Tribunal as well as filling up the vacancies in the posts of Sr. Vice Presidents and Vice Presidents;

(ii) Judicial inquiry into the issues raised by the Bar in its letter dated 9.3.2012 regarding alleged corruption in the Tribunal;

(iii) Increase in the age limits for Judges & Tribunal Members from 62 years to 65 years.
We wish the Hon'ble Minister good luck in the new posting.