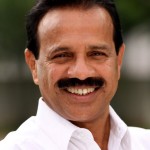 Hon'ble Shri. D. V. Sadananda Gowda has been appointed Minister of Law & Justice with effect from 9th November 2014. He was earlier the Minister of Railways and before that he was the Chief Minister of Karnataka and .
Shri. Sadananda Gowda has come from extremely humble origins. He has risen to the pinnacle by sheer dint of hard work and perseverance.
Shri. Sadananda Gowda has practiced as a Public Prosecutor and is well aware of the problems plaguing the judiciary. In his previous roles, he has demonstrated a strong desire to solve problems. We are confident that he will spearhead important changes in the Judiciary.
The Bar Association shall shortly approach the Hon'ble Law Minister with a request that the following long-standing issues raised by the Bar be addressed at the earliest:
(i) Appointment of a permanent President for the Tribunal as well as filling up the vacancies in the posts of Sr. Vice Presidents and Vice Presidents;
(ii) Increase in the age limits for Judges & Tribunal Members from 62 years to 65 years.
We wish the Hon'ble Minister good luck in the new posting.