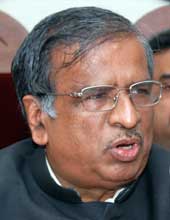 We are pleased to announce that Hon'ble Shri. G. E. Veerabhadrappa has been appointed the officiating President of the Income Tax Appellate Tribunal with effect from 14.10.2011.
Shri Veerabhadrappa is a Chartered Accountant and has practiced for nearly 15 years before joining the Tribunal 16.8.1990. He was elevated to the post of Vice President on 7.1.2005.
Shri Veerabhadrappa has rich administrative experience in the working of the Tribunal, having been posted in diverse locations such as Indore, Mumbai, Chennai, Bangalore and New Delhi. He has been a party to several landmark judgement such as DCIT vs. Oman International Bank 100 ITD 285 (SB), Concept Creations vs. ACIT 120 ITR 19 (Del) (SB), Y. Subbaraju vs. ACIT 91 ITD 118 (Bang) (SB) etc.
We wish Shri Veerabhadrappa good luck in his new posting