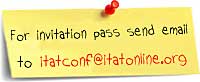 The ITAT is organizing a 'Members' Conference on International Taxation' on 19th & 20th February 2010 at Vigyan Bhavan, New Delhi.
The Conference will be inaugurated by the Hon'ble Mr. Justice K.G. Balakrishnan, Chief Justice of India. Dr M Veerapa Moily, Union Law Minister, will be Guest of Honour. Hon'ble Justice S. H. Kapadia will deliver a keynote address on "Shrinking globe, its impact and challenges before judiciary".
The topics to be deliberated in the conference include topics of everyday importance to tax practitioners such as "Determination of Arms Length Price – Traditional methods vs. profit based methods, applications and pitfalls", "Permanent Establishment" , "Development of Global Tax Jurisprudence" etc.
The speakers are eminent experts such as Hon'ble Justice S H Kapadia, Mr. Michael Lennard Chief, International Tax Cooperation Unit, United Nations, New York, Ms. Caroline Silberztein, Head of Transfer Pricing Unit, OECD, Paris, Prof. Win Winjen, IBFD, Prof Ned Shelton, Denmark Shri SSN Moorthy, Chairman, CBDT, Shri Prakash Chandra, Member, CBDT, Mrs. Anita Kapoor, Chief Commissioner of Income Tax and others. Hon'ble President Shri Vimal Gandhi, Hon'ble Sr Vice President Shri R V Easwar, Hon'ble Vice Presidents Shri G E Veerabhadrappa and Shri P P Parikh will also address the conference.
There are no charges for the conference though attendance is by invitation only.
Hon'ble President ITAT Shri Vimal Gandhi has extended invitation to the ITAT Bar Association, Mumbai, to participate in the Conference and assured that he will accommodate as many requests for participation as may be possible. However, since only a limited number of persons can be accommodated, you are requested to send the request for invitations, at the soonest, to itatconf(at)itatonline.org

Click here to download the itat conference programme brochure. (43.6 KiB, 1,882 hits)