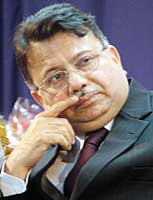 Hon'ble Chief Justice Ajit Prakash Shah
The Hindustan Times reported that the Collegium of judges in the Supreme Court had sent a recommendation to the Law Ministry that three judges i.e. the Chief justices of Madras, Patna and Kerala High Courts — Justices A.K. Ganguly, R.M. Lodha and H.L. Dattu be elevated to the Supreme Court.
However, this recommendation has raised a storm because it overlooks or supercedes three Chief Justices who are senior to the chosen three, viz. The Chief Justices of Delhi, Madhya Pradesh and Uttarakhand High Courts — Justices A.P. Shah, A.K. Patnaik and V.K. Gupta.
HT pointed out that the records showed that Justice Gupta became a High Court Judge in 1990 and was elevated to the post of Chief Justice in 2000. Justice Shah became a Judge in 1992 and a Chief Justice in 2005. Justice Patnaik became a Judge in 1994 and a Chief Justice in 2005.
In comparison, Justice Dattu became a Judge in 1995 and was elevated to the position of Chief Justice in 2007. Justice Ganguly was also made a Chief Justice last year. Justice Lodha became a Chief Justice only in May this year.
No reasons were apparently given by the Collegium for the supersession of the three senior judges though it was hinted that "performance" and "conduct" may have played a part.
It was reported that Supreme Court officials had defended the recommendations by stating: "Seniority is one of the criterion for elevation of judges to the Supreme Court but other factors like performance as a judge and the conduct is also taken into account."
This move has given plenty of fodder to those opposed to the Collegium system of selecting judges for elevation. The Law Minister H.R. Bhardwaj has already gone on record to say that the Collegium system has failed.
The Bar Council of India was reported as being very critical of the supersession and the opaque manner in which the recommendations had been made.
It asked the Chief Justice of India (CJI) to make public the reasons why three senior-most high court Chief Justices were denied promotion as Supreme Court Judges. It pointed out that the CJI had to come forward and clear the confusion, "which could demoralise higher judiciary in the country".
Its chairman Suraj Narain Prasad Sinha did not mince words when he said, "The latest recommendations of the Collegium raise serious doubts on the procedure for judges' appointments. There is no way the discredited Collegium system can be defended. The least that can be done is to make public the reasons why senior judges were superseded."
The Bar urged the CJI KG Balakrishnan to review the collegium's decision. It emphasized that the decision proved that there was "no transparency in the collegium system" and that it smacked of "nepotism" and that it was high time the system was "scrapped". It urged the CJI to show courage to review such a decision.