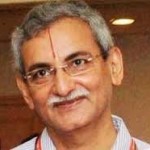 Shri. K. V. Chowdary, the newly appointed Chairman of the CBDT, has addressed a letter dated 01.08.2014 to the income-tax department in which he has pointed out that one of the immediate challenging task is reaching the 'not so easy' target for Revenue collection without undue harassment and high handedness. He has emphasized that the department has to improve its image and become a "friendly, professional, non adversarial and competent organization focused on Revenue collection, tax payers services and ensuring strict compliance with direct tax laws".
Mr. Chowdary has emphasized that one of the issues that requires "immediate and earnest attention" is quicker and reasonable resolution of the requests/ grievances of the taxpayers, early resolution of disputes, effective assessments analyzing all the facts and avoiding high pitched assessments, promotion of compliance, sending strong message by dealing with tax evasion and tax frauds firmly effectively and quickly, widening the tax base, etc.
We wish Mr. Chowdary good luck in his new posting.